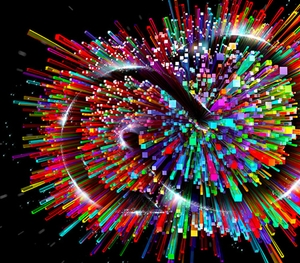 What It Is
Adobe Creative Cloud
What It Does
Subscription-based access to all Adobe applications.
Where to Buy It
https://www.adobe.com/products/creativecloud.html
What It Costs
New users: Full suite $49.99 per month; single application $19.99 per month
Full suite upgrade from CS3-CS5.5: $29.99 per month for first year
Full suite upgrade from CS6: $19.99 per month for first year
Single application upgrade from CS3-CS6: $9.99 per month for first year
Student and Teacher edition: $19.99 per month
Think of software and you think of Adobe. After all, Photoshop is one of the rare applications that became a verb—its photo editing capabilities are just that good. You've probably used it, and if you produce your own Web series or recordings, you may also know Premiere Pro and Audition for video and audio editing. When you've needed to make postcards to publicize projects, desktop publisher InDesign and vector art wonder Illustrator have undoubtedly been in the mix.
Legally acquiring any of these, however, has always been daunting. Just the more single-function ones (think Audition) could run you upwards of $300—and the standard version of Photoshop twice that. But with Adobe's new Creative Cloud suite, you can have not just one but all of Adobe's apps and pay only $50 per month.
In addition to the above-named titles, you also get Dreamweaver for Web design; After Effects for visual effects and motion graphics; the full version of Acrobat for full-featured authoring of PDF files; Lightroom for in-depth tweaking and management of photos; and... well, way too much more to get into right now. Nineteen full-scale programs, plus another 13 related tools and services (including free membership in Behance, an online portfolio service for showing off your work and discovering that of other people) and 20GB of online storage. All for—at most—$50 per month. Need only one big app, such as Premiere Pro? You can get it for $19 per month. (Four other individual subscription plans can bring both numbers down further.) And because Adobe controls the content on its end, you always have access to the latest, most powerful versions.
But there's a "but." (Isn't there always?) Though Adobe bills you monthly for any of the plans, they all require a year commitment. So if, for example, you're starting from scratch and want everything, you'll pay $600 for 365 days—exactly what you used to pay outright for a permanent license of Photoshop alone. Sure, just one app will set you back $240 for a year. But then you just get that one app.
We'll be taking deeper dives into the more potentially actor-useful Creative Cloud apps in coming weeks, to help you get a better grasp of what all is here, what it can do for you, and why you may—or may not—need it. There's a lot here, and you deserve to know what you're in for if you want to stay as current as you can. On the bright side, if you can't afford (or don't want to spend) money for Creative Cloud, standalone copies of CS6 packages are still available—pay for one up front, and it's yours forever.