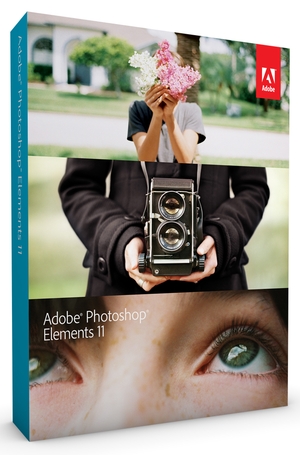 What It Is
Adobe Photoshop Elements 11
What It Does
Software for local photo editing and organizing.
Where to Buy It
http://www.adobe.com/products/photoshop-elements.html
What It Costs
$99.99 (new), $79.99 (upgrade from previous version); available for PC or Mac.
Casting Director Michael Cassara suggested this weekend that I pass on this piece of advice: "Tell actors to scale down the sizes of their headshots." Tired of receiving 26MB files, he said a basic free solution like Paint.NET would help any actor keep the file size down to about 1MB. Paint.NET is a fine choice for the cash-strapped, but if you can afford slightly more—or if you want more and stronger functionality—you should go right to Adobe.
Wait! Don't stop reading! I'm not talking about the full version of Photoshop CS6, which can run you up to $999 (!)—even if it does everything you'd ever need from an image-manipulation program (and lots more). A much better choice for anyone who doesn't do hardcore graphic design on the side is the home edition: Photoshop Elements 11 ($99.99 new, or $79.99 if you're upgrading).
Elements contains everything you need to tweak and perfect your photos, along with options you've probably never thought of. Yes, you can resize images in seconds, fix lighting and color problems, and remove red-eye, but there are some jaw-dropping high-tech features you can't find in no-cost downloads. Highlight a section of your image, hit the delete key, and watch the background beneath the excised portion fill in with the proper pattern automatically. Pull out the Spot Healing Brush to get rid of dust spots and other blemishes just as easily. Extract part of one image and insert it into another photo with just a few clicks—and know that it will look good. And you can do all this, even if you're a rank beginner. Three modes tailor the tools and choices to your level of ability and comfort, and give you as much or as little help as you need.
An integral part of Elements is its Organizer, which has been amped up with improved facial recognition and geotagging, as well as ways to sort your photos by the people in them, where they were taken, or what event they document. Adobe has put a lot of work into making the software clear and intuitive, and anyone can pick it up in minutes.
There's so much in Elements that most people will never know what it's missing. You can't use it for all the seriously professional tasks - 3D, CMYK, and so forth - you can do in the full Photoshop—but most people will never need to. If all you need is to touch up your pictures so you can better promote yourself online, or shrink the images so Cassara and his fellow CDs won't be inconvenienced by endless download times, Elements will be more than worth it.