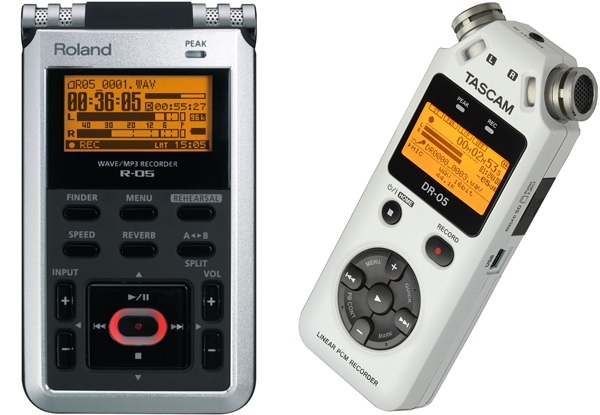 What It Is
Professional-Quality Audio Recorders
What It Does
Feature-rich recorders for preserving better-than-smartphone-quality sound.
Where to Buy It
Amazon.com
What It Costs
Roland R-05: $199 MSRP
Tascam DR-05: $179 MSRP (available for less than $100 on Amazon)
Who needs a digital voice recorder now that we all carry smartphones that can do the same thing, and so much more? The answer is: You do. If all you're planning to do is just take quick notes here and there, of course, you don't need anything fancy. But for any use that's even moderately professional—preserving a rehearsal or performance, recording dialogue or other sounds for a personal project you're working on—you'll need more features and better sound quality than your iPhone or Android can provide. There are a number of good high-end options out there; which one is best for you depends primarily on your budget.
Roland, a longstanding name in the audio business, offers the R-05 for about $200. Not only does it record uncompressed 24-bit, 96kHz audio directly onto an SD card (from either the built-in stereo microphone, an external one you connect, or a line input), but it can also lay down 16-bit wave and MP3 files at the same time. Onboard editing functions let you make changes to your recording without first porting it to your computer, and automatic start, song split, and level adjust functions mean you don't have to micro-manage every moment of your sessions. Want to bump up the reverb? You can add four different types to tweak your sound however you want it.
Another big plus: It's hard to screw up. In rehearsal mode, the R-05 will set the optimum level for you so you don't have to worry about overloading the input and losing clarity. You can also repeatedly loop a specific section of audio you're listening to, or adjust the playback speed without altering the pitch (a big plus if you're trying to get a tough part exactly right). A special prerecord buffer can save two seconds of audio from just before you hit record. A windscreen and tripod mount are both included, too, so you should always have everything you need to get just the sound you want under any conditions. One charge gets you 16 hours of recording time or 30 hours of playback.
Can't spend quite that much? The Tascam DR-05 offers a comparable feature set, and can be found at certain online retailers (including Amazon.com) even more inexpensively—less than $100 in some cases. You won't get rechargeable batteries as part of the package, editing tools aren't quite as varied, and the R-05 is slightly more adventurous in the formats it supports. One plus in Tascam's corner: better battery life—over 17 hours of recording time (at CD quality). Otherwise, the devices are more or less identical, and either will provide the upgrade you need from your smartphone's well-intentioned, but limited, capabilities.