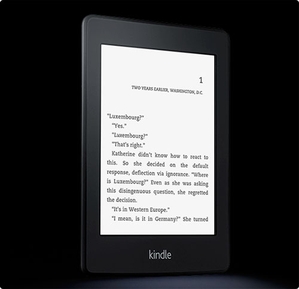 What It Is
Amazon Kindle Paperwhite
What It Does
Ereader with a built-in advanced lighting system.
Where to Buy It
http://www.amazon.com/gp/product/B008GEKXUO/
What It Costs
Wi-Fi: $119 (with Special Offers); $139 (without Special Offers)
3G: $179 (with Special Offers); $199 (without Special Offers)
Last month we surveyed Amazon's complete new family of Kindle ereaders, among the most useful devices for actors (or anyone else) to carry around. With easy and easy-to-read access to thousands of books from Amazon's store, or PDFs, or numerous other kinds of documents, Kindles are among the most pocket- and eye-friendly ways to read anything anywhere. So it seemed apropos, now that the newest models are shipping, to take a closer look at probably the most impressive product in the lineup: the Kindle Paperwhite.
This update to last year's Kindle Touch remedies a lot of basic readability issues. The higher-resolution touch screen's background is noticeably whiter than before, so text on it even easier to read; and an improved font selection (six, with eight possible sizes), faster E Ink refresh speeds, and superior touch response help even more.
What most distinguishes the Paperwhite is its lighting system. A special nanoimprinted guide transmits the light from LEDs at the bottom of the screen and illuminates it from above, for a cleaner - and clearer - looking screen than Amazon has managed before. Twenty-four different intensity levels let you find exactly the right light quality for your surroundings, whether dim for inside the theater or extra-bright for when you're studying a script outside. (Just keep the light completely off while you're watching a show, okay?)
Bad news about the Kindle Paperwhite is hard to come by, but there is a bit of it. It has less on-board storage space than previous models: 2GB versus 4GB for the new non-Paperwhite Kindle and the older Kindle Keyboard 3G and DX. You may not be in much danger of using up that space, but it's still something of a backward step.
Then there's the matter of money. Amazon's stated entry prices for the Wi-Fi and 3G Paperwhites are $119 and $179 respectively—but that includes "Special Offers," or ads that display on the lock screen and in your book collection. These divide people, but personally I find them incredibly intrusive. You can turn them off, but you'll have to pay $20 for the privilege, thus raising the prices of the Paperwhites to $139 and $199.
That ushers in the second problem. For the $199 you can pay for a 3G Paperwhite, you could also buy a full-scale tablet, like the Kindle Fire HD—or even the Google Nexus 7 we've written about before, and those give you a lot more functionality (and color) than you can get from the Paperwhite. Unless you desperately need to be able to buy or download books or other publications from anywhere, the $119/$139 version is a much better bargain.