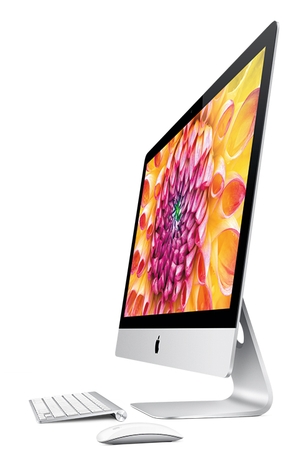 What It Is
Apple iMac
What It Does
Ultrathin all-in-one desktop with advanced processing, graphics capabilities.
Where to Buy It
http://store.apple.com/us
What It Costs
21.5-inch: From $1,299
27-inch: From $1,799
Who says desktops can't be cool anymore? They may have been supplanted by sleeker and more portable systems in recent years, but they're likely to surge again in popularity once more people see the power and sex appeal inherent in Apple's new iMac.
The first thing you'll notice is how thin it is—even more than Apple's usually svelte products. It combines the now-classic all-in-one shape that Apple perfected with an ultraslim profile; it measures just 5mm thick at its edge. Add in the spacious, super-glossy display, the assertively curvy stand, and the no-excess wireless keyboard and Magic Mouse, and you have a modern PC that also looks like modern art.
Not that the iMac is hurting for other features. That display has been engineered to reduce reflection by 75 percent, and it certainly looks clearer and crisper than most other screens you'll find. This is also an especially capable Mac on the performance side, using the latest Intel processors and top-of-the-line Nvidia graphics that can handle with ease not only upscale photo and editing tasks, but even 3D games.
Apple has also been touting the iMac's new Fusion Drive, which unites a super-fast solid-state drive with a high-capacity hard drive to provide significant speed boosts to your most frequently accessed programs and files. At its heart, this is technology that has been around for a couple of years, but you won't have to do anything to reap the benefits once the iMac learns how you work.
One of the biggest downsides of the new iMac is, of course, its price. The 21.5-inch model starts at $1,299 and the 27-inch version at $1,799, and if you want one loaded with the best everything, you'll pay dearly for it—fully maxed-out configurations can run you over $3,000. And changing your mind after purchasing is not recommended: You can swap out the RAM if you have the know-how, but otherwise upgrading is not really possible. If that's the kind of thing you're interested in, a more traditional (and probably Windows-based) desktop is the better way to go.
But this iMac is magnetic, no doubt, and you have to worry less than you have in the past about sacrificing performance for style. It's powerful enough to manage both your career and your life, whether it's things you need to do (edit your Web series with Final Cut Pro, tweak your headshot photos) or want to do (play Call of Duty). You might need to take your smartphone, laptop, or tablet with you when you're out and about, but this is the computer you'll thrill to come home to.