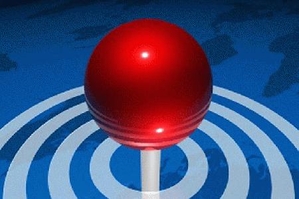 What It Is
AroundMe
What It Does
Uses your smartphone's location features to tell you what stores and services are near you.
Where to Buy It
Android: https://play.google.com/store/apps/details?id=com.tweakersoft.aroundme&hl=en
iOS: https://itunes.apple.com/us/app/aroundme/id290051590
Windows Phone: http://www.windowsphone.com/en-us/store/app/aroundme/92151fd7-5628-4e41-9b18-f9dd1936dc65
What It Costs
Free (standard version); $2.99 (ad-free version)
Smartphones have unquestionably made it easier to visit new places and not get too lost or confused—a world of addresses and local information is always a tap or two away. But traditional apps, even of the GPS variety, have suffered from their inability to give you many different, visible options at precisely the right time. Your map might be a writhing, oppressive mass of pushpins, with necessary addresses and names obscured—all of which makes it a pain to find something you really need when you really need it. So don't rely on Google or (gasp) Apple maps—try AroundMe instead.
This free app (available for Android, iOS, and Windows Phone devices) presents you with a map of your general location and a list of, well, what's around you. Tap on one of the items that pops up to get simple directions—that's it.
Driving in from out of town for an audition? Tap "Gas Stations," and they all both pinned to your map and in list form with address and mileage information, and even the prices you can expect to pay. If you're looking for a place to stash your car while you work, the "Parking" option has you covered. For when you're hungry, "Restaurants and Supermarkets" are valuable options. If you, ahem, want something a little stronger, or are looking for a place to meet up with friends, "Bars and Pubs" will point the way. Not sure where your theater is? Against the odds, AroundMe lets you seek out those, too—whether it's for movies or live performances.
You can also search for something specific by tapping the magnifying glass and typing in what you're looking for, though (at least on the iOS version) this wasn't quite as effortless as we expected. (Search results don't show up until you open the results list—which closes when you open the search window.)
Because AroundMe does so little, it's almost impossible for it to do anything wrong, and we discovered no serious problems (beyond the search oddity) in our testing. The only real annoyance: banner ads that span the top of the map, and that change frequently enough (every 20 seconds or so, give or take) to catch your eye when you don't want them to.
You can, however, pay $2.99 to upgrade to an ad-free version, but unless you use the app all the time, you can probably live with the free one. If you travel a lot, though, it won't take you long to start wondering how you ever lived without it.