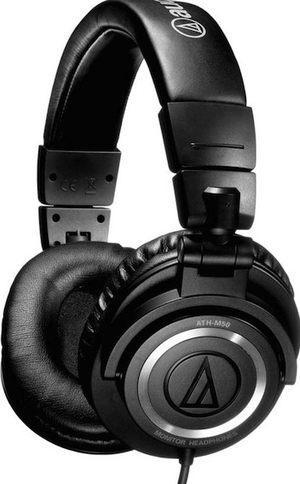 What It Is
Audio-Technica ATH-M50 and ATH-M30
What It Does
Near-monitor quality headphones for less than $200
Where to Buy It
http://www.audio-technica.com/
What It Costs
ATH-M50: Less than $160 (online)
ATH-M30: Less than $60 (online)
Earphones that come with your music player are barely worth using to listen to MP3s, so don't even think about trusting your career to them. Whether you're shooting a video or recording your own songs to get your name and talent out there, you want to be sure that what you're hearing is actually good listening. This doesn't mean you need to blow a few hundred dollars in a pair of top-notch flat-response headphones—though, of course you can, and the results will probably be worth the investment. If, like most people, you're on a budget, you can get a close, but nonetheless excellent, approximation from the Audio-Technica ATH-M50.
Available from online retailers for less than $160, the ATH-M50 uses 45mm larger-aperture drivers with neodymium magnet systems to deliver near-studio sound quality. This means you'll be able to hear everything you need to, but with bass that, unlike what you find from many headphones these days, is articulate but not overwhelming. No, the overall response may not be precisely flat, but it's detailed and balanced, and thus will give you a reasonable idea of what your mix is supposed to sound like.
The ATH-M50 comes with a long coiled cord (which, sadly, isn't detachable) terminating in an eighth-inch plug, though a quarter-inch adapter is included to give you maximum playback freedom with almost any equipment you'll be using. In addition, the ATH-M50 is solidly constructed, not cheap, with thickly padded earcups that fold flat for easy storage or transport.
Note, though, that because these are circumaural headphones (the kind that fit around the ear, rather than on top of it or in the canal), they're on the hefty side, and with a weight of over 10 ounces, they're not light. You're probably better off leaving them at home than carting them with you for random listening on the street or train. (Though they sound good enough, and seal tightly enough to passively block a fair amount of ambient sound, that you might consider it.)
If the ATH-M50 is still a little pricey for you, the ATH-M30 offers similar features and performance in a sub-$60 package. The sound won't be quite as rich as what you get from the ATH-M50, but it will still be quite good. You will, however, have to put up with slightly flimsier build and an inconveniently lengthy cord (11 feet!) that makes using them for mobile listening almost impossible. But, as with the ATH-M50, the quality you get makes up for the few minor inconveniences you'll have to endure.