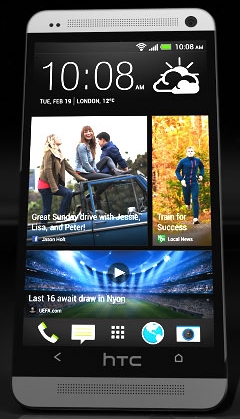 What It Is
HTC One
What It Does
Innovative, highly skinned Android smartphone.
Where to Buy It
http://www.htc.com/www/smartphones/htc-one/
What It Costs
$199.99 (with contract)
The iPhone is still the king of smartphones, but how long can it remain on the throne? Since Steve Jobs' death in late 2011, innovation at Apple has seemed to have slowed and exciting new products have been nonexistent. This means the stage is set for a mobile revolution, and just based on what we've seen in its first three and a half months, 2013 is already shaping up to be the year Androids take over.
Don't believe me? Consider the new HTC One. It demonstrates what individual companies using Android operating systems can accomplish when not hampered by one company's dicta. There's no denying that Apple offers the professional actor (or, well, the professional anything) unprecedented flexibility with regards to app selection, but there's more to any phone—and the One proves it.
Not only is it gorgeously physically designed, with a suave aluminum unibody more contemporary-looking than even the iPhone and a 4.7-inch screen that can display full 1080p, the shine and newness don't stop at the exterior. The first thing you'll notice is probably the BlinkFeed home screen. Forget about launching half a dozen apps—or even just one—to learn what's happening with the important people in your life. BlinkFeed pulls all your social networks, news sources, and feeds directly to your main screen and updates them all dynamically.
The phone's hardware has been revamped, too. The UltraPixel camera, which uses fewer (but larger) megapixels, not only takes better low-light photos, but can capture up to 20 images and a three-second video in a single shutter press—turning your photo collection into what the One website calls "a living, breathing gallery." Two stereo speakers on the phone's front provide more sound than you usually get from a phone, and a special technology called Sense Voice uses dual microphones to detect ambient noise and boost the in-call voice to compensate for it.
All these features do come with downsides. That screen and the relatively powerful Qualcomm Snapdragon processor can negatively affect battery life—and the battery isn't user-removable. And if you prefer your Android "plain vanilla" (or as close as you can get), the ultra-skinned version of Jelly Bean that the One uses, even though it delivers all those clever bells and whistles, may not be up your alley.
Still, the One is powerful, flexible, and creative—if you're looking for a phone that offers even more ways to incorporate itself into your life and your work, it's definitely worth considering. Whether it will supplant Apple's rumored new iPhone, or even the upcoming Samsung Galaxy S 4, is anyone's guess. But it shows just how much Android makes possible, which could be an industry- and Cupertino-shaking revelation.