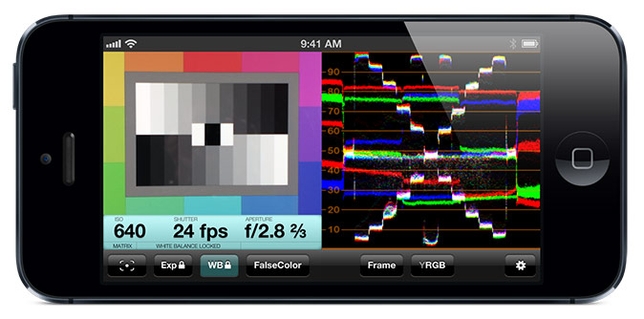 What It Is
Cine Meter
What It Does
A light meter for your iOS device.
Where to Buy It
https://itunes.apple.com/us/app/cine-meter/id590364679?mt=8
What It Costs
$4.99
The biggest difference between amateur- and professional-looking videos is typically not the acting, the sets, or the camera work—it's the lighting. If you're not extremely sensitive to the effects of light, or if you trust your eyes to tell you how much illumination is really in a room, you can easily find that your hard work in every other area is either obscured by shadows or blown out by too-bright whites. To guard against these kinds of problems, you need a light meter. And if you'd prefer to not carry around yet another gadget wherever you're shooting, consider letting the Cine Meter app ($4.99) do the work.
Cine Meter uses your iOS device's built-in camera to give you a ton of information about how well your scene is lit. Its light meter informs you of the exact stop you need to set, in both full and fractional formats. A waveform monitor provides detailed data about the way light levels vary across a scene, and a special RGB mode for monitoring color purity makes you instantly aware of hot spots and other imbalances if you're doing chroma key work. And you can use the false-color picture to define acceptable contrast ranges and solve any problems with under- or overexposure before you even pick up your camera.
More advanced tools are available in Cine Meter, too. You can turn on spot metering to get precise information about exposure in a certain area of the frame. Exposure Lock and White Balance Lock do exactly what their names suggest: maintains the current exposure level and white balance levels so your device's camera will give you the results you expect when you start your capture.
It's worth pointing out that although Cine Meter will help you turn out shots that look a lot better than you'd probably get without it, it's not without its limits. The light meter's readings are absolute, but other displays are relative within a scene—meaning you can't compare them. Nor can you manually set exposure or white balance: You have to find the values you want in your scene and then lock them. Similarly, you can't change the size of the spot metering area. If you want more control over these kinds of functions, you'll have to graduate to a dedicated device. Even more advanced tools, such as histograms, aperture-priority metering, screenshots, and more aren't available right now, though the creator has promised them and more for version two (to which version one owners will receive a free upgrade).
Your iOS device may still not be quite robust enough to replace a serious photographer's carry-along kit, but Cine Meter will bring you a lot closer to that level of quality.