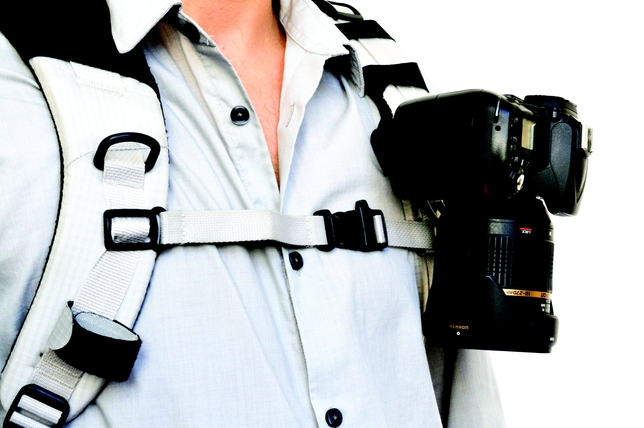 What It Is
Peak Design CapturePro
What It Does
Secures almost any camera to a belt or backpack
Where to Buy It
What It Costs
$59.95 (Capture Camera Clip v2)
$79.95 (CapturePro Camera Clip)
We've covered rugged cameras and accessories round these parts before, but the trouble with some of them (and a lot of other add-ons out there) is that they don't always work with the camera you already have. If you have a great idea for a shot or a scene that takes place outside the relatively safe environs of your everyday life, you want to be sure that both your shooter—and you!—will survive the trip. Peak Design's line of camera clips can help.
Rather than forcing you to bring along an extra bag that may get in the way, these clips let you securely attach your camera to any other strap you may have handy, such as on a backpack or even your belt. Because the Capture clips hook on with a mechanism based on the same one used on tripods, you can be certain your camera will be safe. Peak Design claims that the quick-release lock on the capture can withstand more than 200 pounds of force, so you won't have to worry about your investment plummeting.
Peak Design has stopped manufacturing the original version of the Capture, though it's available from retailers for $79.99. For about the same price, you can preorder the new CapturePro, which is the most heavy-duty model: It has an all-aluminum body, features a tripod thread on its back plate so you can screw it onto a tripod, and can be used with any of three quick-release plates to be compatible with a range of tripod types. The cheaper ($59.95) Capture Camera Clip v2 uses a glass-filled nylon back plate and supports only ARCA-type tripod heads.
Because using the Capture unavoidably means keeping your camera close to your body, you may run into some discomfort if you use an especially large lens or if your camera is unusually designed (say, because it has a vertical grip). To alleviate this, the PROpad ($29.95) slips between the camera to act as a cushion. Another handy accessory: the POV Kit ($29.95), which lets you mount an action camera (such as the GoPro we've looked at before) or even a point-and-shoot to capture amazing footage from almost any angle.
Capture may not be able to guarantee you'll never shoot another boring video again—that, of course, depends on you—but by helping keep your camera closer to you, it will bring you closer to executing whatever exciting idea is in your head.