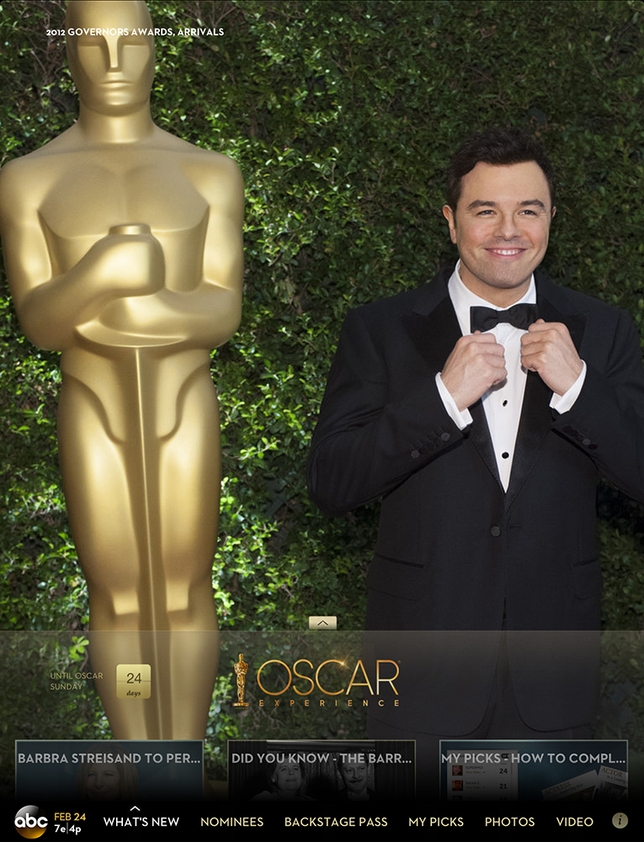 What It Is
Oscar Experience
What It Does
iOS app for following everything Academy Award.
Where to Buy It
https://itunes.apple.com/us/app/oscars/id411784735?mt=8
What It Costs
Free
Remember Oscar pools? They're so passé these days. Anyone who's anyone interacts online with the Hollywood glitterati—or even just the people who like their movies. It's less messy, less expensive (if you're a losing type), and less disappointing. Or that's the way it's supposed to work, anyway. Looking at this year's official iOS Academy Award app, titled Oscar Experience, you might wish you'd stayed at home with Netflix or even gone to the theater instead.
Were this an amateur, hobbyist venture, it would be relatively dazzling: a style-conscious guidebook to all the public ins and outs of the year's biggest awards ceremony, comprising instant access to a full list of nominees, photos and trailers for all the nominated films, and even a simulated ballot that lets you play solo or pit your pix picks against your friends' on Facebook.
But for something this high-profile and prestigious, don't you have the right to expect a little more? Updates in the "What's New" section look like press releases poorly reformatted as homegrown Geocities webpages from 1996. The nominees lists feature competing swipable windows that are oddly confusing despite their attractive use of full-screen photos and transparency. "Backstage Pass" promises "the ultimate insider's view of Hollywood's biggest night," but offers nothing prior to the ceremony on February 24.
The ballot is poorly implemented, both sloppily and boring, rather than slick fun. (And if you don't want to link the app up to Facebook, you'll have to tap through a bunch of boxes confirming the fact.) There's nothing wrong with the photos section, provided you don't mind its blend of recent images with those from seven months ago—I counted 24 galleries with photos that old. (Shouldn't the 2012 shots have been slotted elsewhere?) And though the video access is nice, even with annoying autoplay files that kick in whenever you visit the page, the quality is not HD crisp, but blocky and artifact-laden, even on a Retina display–equipped third-generation iPad. Wouldn't you think that, if the Oscars app were to get anything right, it would be the motion pictures?
As a bare reference, this free download delivers what it needs to—and pretty much nothing extra. It's good to know the whos and whats of the Oscars, both so you can stay abreast of what's happening in the entertainment world you're a part of and so you can get a better grasp of the trends and fashions (using all senses of the word) that will guide your career for the next year or so. But ideally, the official Oscars app would be just as much fun as watching a movie. Oscar Experience, unfortunately, doesn't even come close.