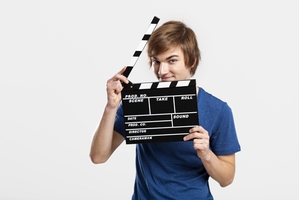 Let's face it. No one has just one screen anymore. Most people have many screens to choose from when they consume multimedia content—be it television, tablet, smartphone, or now even watch or eyeglasses!
Filmmakers and TV show producers know this and have started creating "second screen" experiences for their projects to enhance their viewers' pleasure (and try to keep their full attention in an age of smartphone addiction)! These experiences vary—from from social media campaigns (like 'Scandal,' which now has a major Twitter following) to individual apps (like Zeebox) that aggregate all real-time social media information about shows.
But you don't have to have a major network or studio production in the works to build a second screen experience for your project. In fact, you probably already have the tools in hand to do so. So why not take advantage? Your viewers will thank you!
Here are a few tips for creating your own second screen content.
Get social. The chance that you're already an active tweeter and have a Facebook account is high. But if you don't have a social media presence, you should get one and start some accounts for your project as well. Update it regularly with news about the production, behind-the-scenes photos, exclusive video content, or even a contest to build a following and offer your viewers the chance to feel like they're involved.
Get interactive. Along those lines, think of some kind of interactive content that you can tout via social media and that viewers can engage in while they're watching your production. For instance, Disney released an iPad "sing-along" app a few months ago that moviegoers could use while watching the movie in theaters. While creating an app or subscribing to one can be costly, there are some creative ways to get around it. You could post trivia questions to your followers on Twitter and Facebook, the answers to which can be found as viewers are watching.
Get grounded. While social media and apps are great tools for a second screen experience, you are well-served to create some kind of second experience at a home base—like a website or blog. It's a stationary zone where you can aggregate info about your project in one spot, almost like the Zeebox app. You can embed your social media feeds too. Hype it up on your social media accounts, and your viewers will be tempted to visit to look up information on their smartphones or tablets about the production as they are watching it, instead of going to Wikipedia or IMDB.