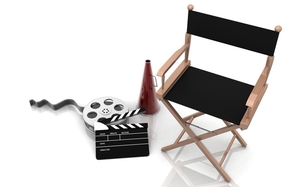 "I get that same queasy, nervous, thrilling feeling every time I go to work. That's never worn off since I was 12 years-old with my dad's 8-millimeter movie camera." - Steven Spielberg
No matter the scale of your project, avoiding stress while creating content is next to impossible. Sans the chest pains I felt while shooting my first feature "The Little Tin Man," this doesn't always have to be a negative thing. If you can find a way to channel that nervous energy, you sometimes end up making something greater than you even anticipated.
Here are a few tips to create a workflow that will help you reach your full potential.
Failing to prepare is preparing to fail. I don't mean to sound pessimistic, but you've been warned. There are no excuses here! Particularly when you will be wearing a lot of hats on a shoot, you have to invest a lot of time in planning ahead. I've said this many times before, but before stepping on set, make sure all of your ducks are in a row, as best you can. Schedules. Locations. Meals. Cast. Crew. Equipment. The list goes on and on. Get organized. Then try to anticipate the potential pitfalls and problems and expect them to happen. Believe me, they will. And they'll bring some friends along too that you didn't invite to the party. Don't get caught with your pants down!
Become a Scout (cookies and slipknots optional). Go to your secured location and scout it out with at least your cinematographer before your shoot begins. On the technical side, indentify your power sources. Where you will plug in your lights? Where you will store your excess equipment? Where will the craft service be (insert cookies here)? Make a checklist. Walk through your scene. Think about camera placement and movement. Start working through the blocking so you can articulate it effectively to your actors. These visits are essential to a smooth workflow come game time.
Get everyone on the same page. Literally. Try your best to wrangle your principal cast together before the shoot and read through the script once or twice. Cold is fine. They shouldn't be expected to completely flesh out their characters on the spot. However, this experience will allow the team an opportunity to offer feedback and watch the story come to life collectively. It should also be an open forum to discuss any concerns about the execution.
No pain, no gain. Once the camera starts rolling, roll with the punches. Embrace the tension. Every project has it. Your situation is not unique. Be confident in your preparation. Be clear with your instructions to the cast and crew. Most importantly, be respectful of everyone. Check your ego at the door. The workflow will hit its stride sooner if everyone is working as a team. Be a leader worth following.
Matthew Perkins is a filmmaker living in New York City. His first feature, "The Little Tin Man," hits the festival circuit this year. Follow him on Twitter @_MatthewPerkins