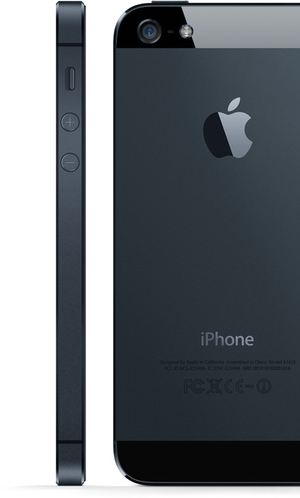 What It Is
Apple iPhone 5
What It Does
The latest revamp to the revolutionary smartphone line adds a sleek redesign, more speed, and some killer features.
Where to Buy It
http://www.apple.com
What It Costs
$199 (16GB), $299 (32GB), $399 (64GB), not including AT&T, Sprint, or Verizon service plan.
When you're shopping for a smartphone, you know what you need: something to help you organize and streamline your days. Managing your life and career can be a challenge in any event, so your phone shouldn't make it more difficult. But what do you want? Lots of features? Astounding speed? Looks that announce status, efficiency, and taste? You can get some of these qualities from other phones, but for the shiniest combination of them all, you know you should start (and probably end) by looking at Apple.
So let's just say it: The iPhone 5 is the best iPhone ever. Yes, that's a resounding refrain every release cycle, but this time around Apple has really gone above and beyond. It's already incredibly popular, and wait times are averaging around a month at the moment, but is it worth the wait? Oh yes.
From the first instant you see it, you know the iPhone 5 is different. It screams "sleek" with a nearly unibody design (in either black and slate or white and silver) that, despite being longer (nearly five inches) and displaying a larger and higher-resolution 4-inch screen than its predecessor, measures a mere 0.3 inch thick and weighs an almost unnoticeable four ounces. You won't be weighed down as you see and do more.
And you'll do everything faster. Support for 5GHz Wi-Fi and 4G LTE (on applicable carriers) means you'll move data lickety-split where you are. But the iPhone 5 is also loaded with a new, custom-designed A6 processor that results in blistering app performance—about twice that of the iPhone 4S. A decent speaker (and the excellent new EarPod earbuds) and fine front- and rear-facing cameras are the whipped cream. The fact that, despite all this, you can get a full day of use out of a single battery charge is the cherry on the top.
No, the iPhone 5 isn't perfect. You've undoubtedly heard of the navigation problems cropping up with the new default iOS 6 Maps app, and of the new Lightning connector that maintains compatibility with older devices only via a $30 adapter. Few apps currently take advantage of the expanded screen. And although the iPhone 5 represents a general improvement in voice quality is improved, it's still not the absolute best phone you can buy for simple talking.
Ultimately, however, these are minor inconveniences that aren't likely to have much of an impact on what you get out of the iPhone 5: a terrific handheld experience that eclipses what most smartphones deliver. You can find phones that are better in most of the individual areas, but no other phone currently on the market offers the same alluring, complete package the iPhone does.