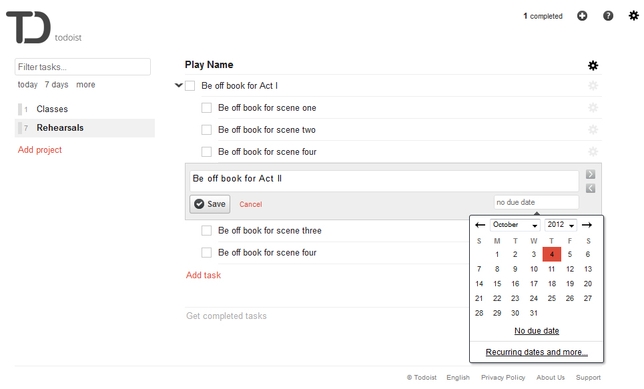 What It Is
Todoist
What It Does
A free Web-based task organizer with lots of features and methods of interaction
Where to Buy It
http://www.todoist.com
What It Costs
Free; $29 per year for Premium version
Being organized is an enormous help in an acting career, but it's not something that comes naturally to everyone. If you're experiencing constant trouble remembering exactly when you need to do things or meet with people, or what the deadline is for learning your lines—and, more important yet, setting up a system to make sure it all happens as it needs to—you might benefit from the free task organizer Todoist.
Once you've signed up for an account on the website, you can get started right away. Just create a new project with a name that's meaningful for you, then add individual tasks that will aid you in fulfilling that project's goals. You can select due-by dates from a built-in calendar, or type them in using recognizable English constructions. ("Next Friday," for example, or "every last day" so you know something is due by the final day of every month). Want to set up recurring tasks? You can do that, too.
But Todoist doesn't stop there. You can indent tasks so you can tell at a glance how they all relate to each other. You can add labels that let you filter similar tasks, even across projects. A number of plug-ins let you manage your tasks directly from Web browsers like Google Chrome and Firefox, or from the already-powerful Microsoft Outlook. Another nice perk is Todoist still works if you don't have an active Internet connection.
There's no lack of features in Todoist as it is, but more functionality is available for $29 per year in the Premium version. With it you can get task reminders via either e-mail or text message; use better tools for annotating or searching through your tasks, as well as organizing the ones you've already completed; export tasks to iCalendar; or label tasks in color so it's simpler to tell them apart. You can also add e-mails as tasks if you want, and with Premium all your communications with Todoist.com use SSL encryption for considerably more security.
For most uses, Todoist is just fine, but it's not without limitations. You can't easily schedule a task without an associated project, which is a bit annoying, and you can't block off the amount of time you expect a task to take—this makes it less useful for planning out any given day than it does the broader picture of your life. But if that's what you need to always stay on top of your obligations and responsibilities, Todoist does the job well enough to be worth a look—and maybe the $29 per year, depending on just how organized you need to get.