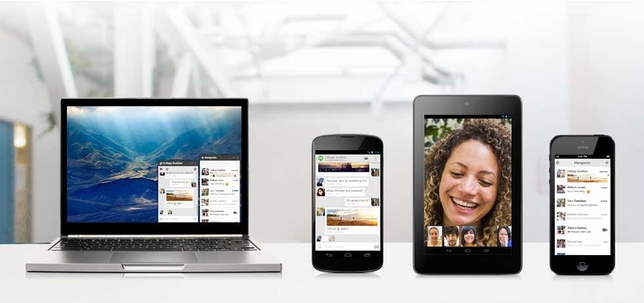 Google+ Hangouts are here, and they're generating a lot of buzz in the digital world. Google announced this new multimedia chat feature earlier this month—you may have already noticed new features within your Google+ account.
Perhaps most importantly, Hangouts can provide great, free opportunities for actors and filmmakers to engage audiences, expand their brand, and hone their craft. From enhanced, multi-person video chat capabilities (talk with up to nine other people at once) to broadcasting your chats for all the Internet to see, Hangouts has a range of uses.
Run your lines with a scene partner from afar, hold conference calls, broadcast a live promo for your projects, teach a class—all these things are possible, and free! Since it's automatically integrated with your Google+ account, if you use that for social media marketing, it provides a seamless way to create more interactive buzz around you and your brand. You can use Hangouts across mobile platforms, including Android and iOS.
While the possibilities are enticing, getting started with Hangouts requires a little bit of effort up front, beginning with the installation of a plugin on your browser (which you can download for free here), and downloading the free app for your mobile device (Android, iOS). If you already have the Google Talk app on your mobile device, you will only need to run an update, as Hangouts has replaced Google Talk.
Once you're all set up with the plugin on your computer, click on "Hangouts" (accompanied by a quotation mark within a green quote bubble) on the upper right corner of your screen to get things going. (Make sure your computer's camera and microphone are working properly first!) You can click on any of your contacts that appear in the right-hand column or click "Start a Hangout Party" on the lower right corner to get started. For the app, you'll need to sign in with your Google account and you'll be ready to start "hanging out."
For more information and help if you get stuck, Google has a helpful tutorial here.