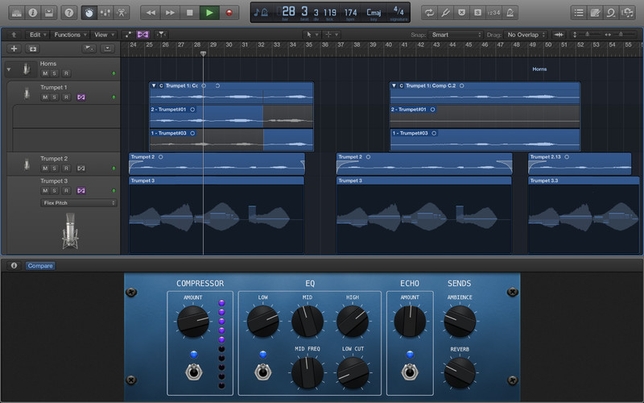 What It Is
Logic Pro X
What It Does
A full-featured update to Apple's professional music sequencing, editing, and mixing software.
Where to Buy It
https://itunes.apple.com/us/app/logic-pro-x/id634148309?mt=12
What It Costs
$199.99
Music sequencing software has been around for about as long as computer audio has, but few titles have gained quite the same following as Logic Pro. This isn't exactly surprising, as it's been an Apple product for more than a decade—and the Mac has long been many musicians' go-to computer. But because Logic Pro hadn't seen a major update in more than three and a half years, there was good reason to believe Apple had abandoned it. The company's release last week of the newest version, Logic Pro X ($199.99) proves that's not the case.

Like the Final Cut Pro X video editor, Logic Pro X features a streamlined interface designed to simplify the workflow process for hardened professionals and newcomers alike. Transport controls and the Sound Library are easier to access and use, and snap guides help you align regions you want to edit. Not sure what one element does? Hover your mouse cursor over it for an explanation. With the revamped mixer you get more information at a glance and can more quickly deal with plug-ins. The Score editor is now track-based as well, which makes things a lot clearer when you're working with multiple regions. Have an iPad? Install the Logic Remote app on it so you can perform most major Logic Pro functions from anywhere in the room.
There's lots of other new and expanded functionality, as well. With Track Stacks you can group multiple related tracks to instantly create layered sounds you can save as patches. Drummer is a "virtual session player" with custom kits that give unique sounds to more than a million groove and fill combinations in 15 distinct genres. Seven additional stompboxes let you distort with style, the vintage keyboards have been redefined to sound and work better, and nine new MINI plug-ins provide more control over your sounds. Tweak existing sounds or create your own with the Drum Kit and Bass Amp Designers, and play with the heavily adjustable Arpeggiator to strum up all sorts of dazzling effects.
As for editing, Flex Pitch provides an array of tools for adjusting pitch, slides, and gain of performances that just aren't quite right. Or you can use Smart Controls to adjust the parameters of several plug-ins at once to transform sounds that way.
Though some video editing gurus claimed Apple's changes to Final Cut Pro X "dumbed down" the app too much, it's difficult to see how music pros could levy the same charge with Logic Pro X. If there are hints of the more populist GarageBand in the new Logic Pro's look and feel, the software remains a powerful—and supremely affordable—way to build and polish any kind of music.