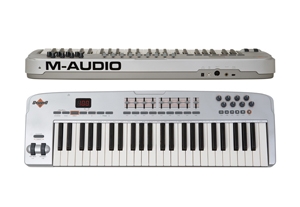 What It Is
M-Audio Oxygen MIDI Controllers
What It Does
A small, inexpensive way to enter music directly into your computer.
Where to Buy It
http://shop.avid.com/store/home.do
What It Costs
$149.95 (25-key), $189.95 (49-key), $249.95 (62-key)

Anyone with even a toe in the musical theater benefits from having a keyboard around. Even if you don't need to practice your songs, you might want to write some of your own or easily lay down some tracks in GarageBand (or a more powerful, dedicated composition tool) for a backing track or demo recording. The problem is that you may not have the room—or the money—for a full-size keyboard. So if you're looking for something that will fit both your living room and your lifestyle, consider M-Audio's line of Oxygen MIDI keyboard controllers. They're available in 25-, 49-, and 61-key varieties, reasonably priced from $149.95 to $249.95, and offer you plenty of useful features to hard-core professionals and casual users alike.

Wheels on the keyboards let you instantly adjust pitch and modulation (and have a good-size finger indent on them for easy operation), and four buttons next to those provide easy access to track selection or transposition functionality. A three-digit LED screen front and center gives you the information you need at a glance. Just above the keys you'll find a row of rectangular buttons for use in programming the controller, nine assignable sliders, and, on the upper-right section, eight assignable knobs and eight transport keys. All of these make the Oxygen keyboards incredibly easy to configure things exactly the way you want them. And, as the keyboards are all light (the 61-key version is the heaviest, at 7.5 pounds), they're easy to cart to your next gig or rehearsal.

Although the family of products has been around for years, its most recent revamp has introduced some significant changes. The design is cleaner and sturdier now, which is a plus. Unfortunately, there's no longer an external power adapter for supplying the juice—the only way to use the Oxygen keyboards is via USB. (Luckily, a six-foot USB cable comes with your purchase.) And the keyboards now control MIDI exclusively through your computer; you can no longer use them with standalone synthesizers or other rack-mounted MIDI devices, which could be an inconvenience for more advanced users.

One of the biggest drawbacks of the Oxygen MIDI controllers is that they're not full-size weighted keyboards. They feel good under your fingers, but they're still sadly useless for serious players. Those who need or want something closer to the real deal can find it in the top-of-the-line Oxygen 88—at a cost of $750. But if you have to settle for less, because of either space or spending restraints, the fewer-key models are robust enough that you won't feel like you're sacrificing very much.