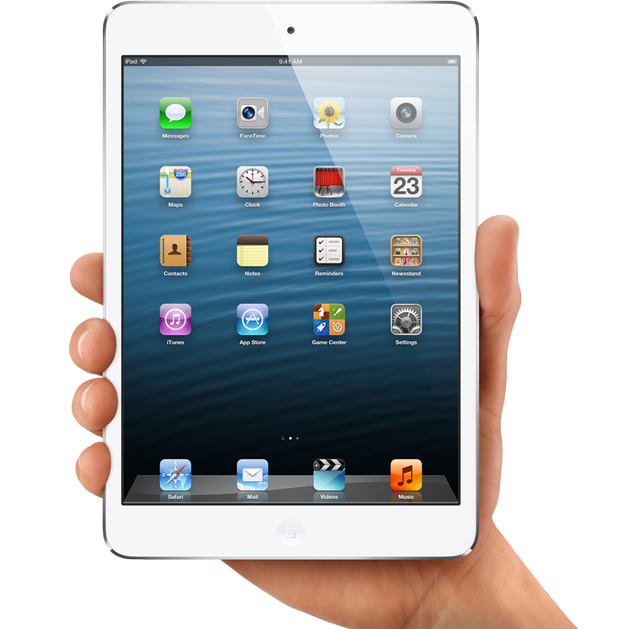 What It Is
New Apple iPads
What It Does
Apple's tablet has been reduced and revamped, providing more performance and portability options for a broader spectrum of users.
Where to Buy It
http://store.apple.com/us
What It Costs
iPad mini: $329 to $659 (storage space and wireless connectivity varies)
iPad (fourth generation): $499 to $829 (storage space and wireless connectivity varies)
Apple rarely lets other companies drag it along tech trend lines. So the surprising thing about the iPad mini is that it took this long to arrive. Given how many different sizes and styles of the iPod have come out of Cupertino over the last decade, you'd think several flavors of the trailblazing tablet would be a given.
But everything about the iPad mini is surprising. It is, for all intents and purposes, a scaled-down iPad 2 (from 2011), offering almost identical performance and screen resolution (meaning all your old iPad 2 apps will work natively), but measures a mere 0.28 inch thick and 10.9 ounces in weight, with a 7.9-inch screen rather than a 9.7-inch one—small enough to fit in your hand (barely).
Of course the price has been scaled down, but not very much. The iPad mini starts at $329 (for a 16GB, Wi-Fi–only version) and can go as high as $659 (for one with 64GB of storage and a cellular modem complementing the Wi-Fi). This is noticeably higher than the $199 you'll pay for Google's acclaimed Nexus 7 tablet—with a lot less storage space (8GB)—or the Kindle Fire HD, which starts at 16GB.
Both those devices are strangely strong competitors this time around. The iPad mini is undoubtedly a lot more portable than the full-size iPad, and that much easier to toss into your bag and pull out for studying lines in the subway or shooting quick on-the-scene videos. But it doesn't do anything new, and thus presents no good reason to upgrade if you're satisfied with the iPad you have. And if you're buying one for the first time, you're paying upwards of $100 for Apple cachet and build quality.
Is that enough for you? If so, the iPad mini won't disappoint. But, strictly speaking, it's a low-innovation release. Apple's probably right that people will buy it based on its pedigree alone, but if you're watching every penny and care more about what a device does than where it comes from, the iPad mini is a somewhat tougher sell compared to the Nexus 7 and the Kindle Fire HD—they set the pricing rules and the expectations because they got there first.
If you can be happy with a larger tablet, Apple's other new release is more compelling. The fourth-generation (full-size) iPad is a revamp retains the earlier 2012 model's gloriously crisp Retina display, but doubles processing and Wi-Fi performance, and introduces the new Lightning power connector. The price, however, is the same as its predecessor's: starting at $499 for a 16GB Wi-Fi model, and rising to as much as $829 for a 64GB iPad with Wi-Fi and cellular connectivity.