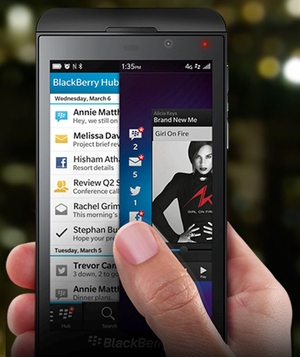 What It Is
BlackBerry 10 OS, BlackBerry Z10 phone
What It Does
A return engagement of the original business-oriented phone.
Where to Buy It
http://us.blackberry.com
What It Costs
N/A
A decade ago, when smartphones were still in their infancy, BlackBerry was synonymous with business. If you needed to do actual work from anywhere, you had one—and you probably also had worn out the thumb you used to do everything on it. But recent years haven't been kind to the one-time industry leader, with stalled innovation and missed deadlines consistently shunting it behind iOS, Android, and Windows Phone devices. BlackBerry OS 10 and the touch-screen phones associated with it, slated for release later this spring, aim to change that—or change it back.
Will they succeed? At this point, things could go either way.
Everything that people loved about BlackBerry is coming back in the new, drastically updated operating system, starting with the thumb. You move through its pages by way of four easy-to-learn, easy-to-execute, one-finger gestures that move you between apps, return you to the home screen, display options, or check your notifications from popular social networking services, e-mail, and even the phone itself (in the form of voicemails and missed calls). When you need a keyboard to type, the Z10 phone has an excellent virtual one; the coming Q10 will even sport a physical keyboard. And in terms of its underlying hardware, most notably its 1.5GHz Qualcomm processor, the Z10 at least is likely on solid hardware footing.
The big problem is apps. Whereas all the other platforms have had years to build up their libraries and develop intense followings, BlackBerry is starting from scratch in more ways than one. Tens of thousands of offerings are available, but that's still a fraction of what you can get on Apple and Google phones, and most of your favorites aren't presently downloadable and probably won't be for a while. Though you'll undoubtedly be able to find something to suit your needs, don't count on it being software you already know and love.
This can—and undoubtedly will—change, but so much of the market now is so app-centric that this initial state of affairs is potentially dangerous. The days when all people needed (and wanted) was a simple phone and basic e-mail access are now long gone, driven away by the ever-miraculous iPhone and its many Android competitors, so to reassert itself BlackBerry must prove, to longtime devotees and newcomers alike, that it's worth the wait.
If you care less about the software than you do having instant access to all the people with whom you need to communicate in your work and your personal life, the new BlackBerry might be worth investigating when it's finally within the next month or so. But whether the platform will have the juice it needs to compete long-term remains to be seen.