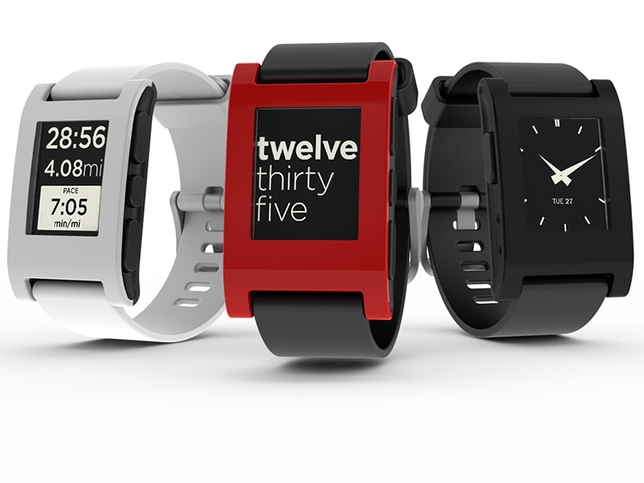 What It Is
Pebble Smartwatch
What It Does
Connects to your iPhone or Android phone to alert you to calls, emails, texts, and more.
Where to Buy It
http://www.getpebble.com
What It Costs
$150
At last you can get your hands on Kickstarter's biggest success story. Well, to be more precise, you can now get Kickstarter's biggest success story on your hand. The Pebble Smartwatch, which earned more than $10 million during its online funding drive last year, is finally being shipped to investors, and you'll be able to get it soon as well. (It's available to preorder now.) If it's not a large-scale game-changer, it has undeniable cool and fun factors that make it right for the right kind of person.
Though it's technically an Internet-connected watch, capable of running its own proprietary apps, the Pebble might be best thought of as an extension of your smartphone in wristwatch form. It connects to your Apple or Android device (sorry, Windows Phone and BlackBerry users) via Bluetooth and then receives crucial information from it that it then shows on its 144x168-pixel, black-and-white e-paper display.
Right now, most of what you'll see is in the form of push notifications, so you can tell who's calling you or sending you a text or an e-mail (and, in the latter cases, get previews of the messages) without having to pull out your phone to check it. Helpful at the gym or in rehearsals, maybe, but a must-have feature? Not necessarily. But it might spare you a little bit of time and perhaps a little aggravation, and those savings do accumulate after a while.
But the Pebble is more than just a second screen. Because it also has a three-axis accelerometer and a built-in vibrating motor, it can mimic a lot of what your phone can do, which opens up a new world of possibilities. The Pebble can control music your phone is playing, or send you speed, distance, and pace information when you're biking or running. The Pebble is customizable too. Nine different watch faces are available to swap in and out and augment the Pebble's naturally plain (and somewhat cheap) look, and you can also attach almost any 22mm watchband.
Because the Pebble has an open software developer's kit, there's no restriction on the capabilities enterprising coders could give it. Its $150 price may seem steep, but you're paying in part for the potential to do even more amazing things in the near future. There are still some kinks to work out—buggy apps, the inability to scroll though notifications, and limitations on what data you can send back to your phone among them—so the less adventurous might not want to go the "early adopter" route this time. But if the Pebble gets the support it needs from consumers and developers alike, it could turn out to be the most useful addition for your phone.