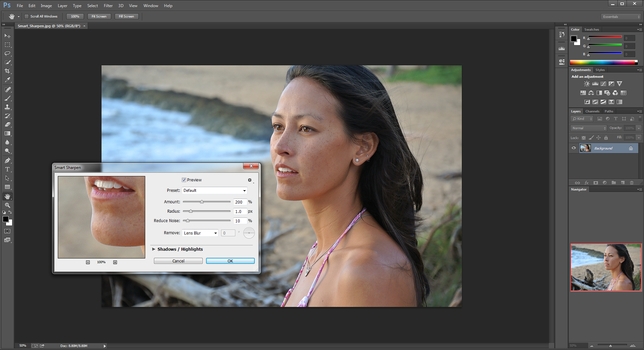 What It Is
Adobe Photoshop CC
What It Does
The ultimate photo editing software, now in subscription form.
Where to Buy It
http://www.adobe.com
What It Costs
New users: Full Creative Cloud suite $49.99 per month; single application $19.99 per month
Full suite upgrade from CS3-CS5.5: $29.99 per month for first year
Full suite upgrade from CS6: $19.99 per month for first year
Single application upgrade from CS3-CS6: $9.99 per month for first year
Student and Teacher edition: $19.99 per month
Promoting yourself isn't exactly your full-time job, but it's a significant chunk of your life—and it probably involves a camera, even if it's just the one on your smartphone. But cottony snaps, however much you've fed them through Instagram, only go so far. If you're serious about how you present yourself and your work, you need the software that tells that to the world. And that remains Photoshop. You don't need to know enough to fully process your headshots, but you should know all the tools that are all available to you, and in the latest version, released as part of Adobe's Creative Cloud (CC) package, there are more and better ones than ever before.
The anchoring "magic" addition this time around is camera shake reduction. If a picture is too blurry because your camera moved while you were snapping, you can process your shot through this tool to eliminate most of the offending fuzz.
Perhaps even handier for everyday use is the new Smart Sharpen filter. Beyond providing sliders that grant finer control over how the technique is applied, it analyzes your image so it knows which elements it should accentuate and which it shouldn't.
Do you have an image that's beautifully composed, but just too small for how you want to use it? Improved upsampling may be able to help. There's even a way to preserve certain details and limit the introduction of new noise that might typically appear when you try to "expand" a smaller picture to fill a bigger space.
There's one crucial caveat. As with much in Photoshop, acquiring the most professional result with these tools may take a lot of practice. And don't expect the "fixed" version to look perfect; you're always better off getting things as right as possible when you're shooting. But if you need or want a little bit of help, these are three excellent ways to go.
Combined with better Raw image handling and other standard CC features—cloud storage, the addition of licensed TypeKit fonts that work with Adobe and non-Adobe software, membership in the Behance portfolio service—these represent some solid core improvements to Photoshop.
But are they enough to justify the potentially hefty cost of a CC subscription? If you have CS6, probably not—there haven't been many interface rethinks or other sweeping refinements that will drastically alter the way you work with the software, so you can safely stick with it if you're happy with what you have. But if you've come to the conclusion that you need even more one-stop ways to repair your less-than-perfect photos, Photoshop CC—like practically every other version that's preceded it—is the best method currently available.