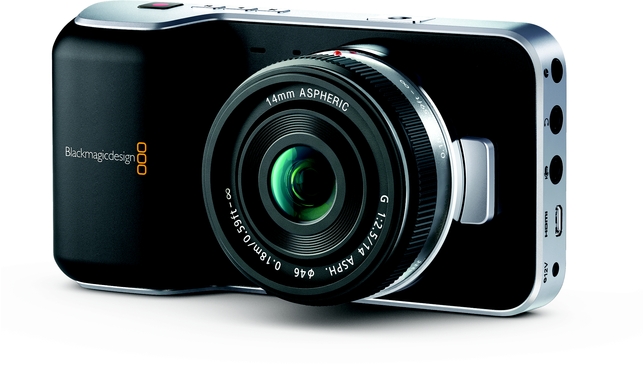 What It Is
Blackmagic Pocket Cinema Camera
What It Does
A compact video camera with lots of features and interchangeable lenses
Where to Buy It
www.blackmagicdesign.com/products/blackmagicpocketcinemacamera/
What It Costs
$995
If you're like a lot of people, you may not even think about carrying around a video camera anymore—isn't the one on your phone enough? For remembering everyday events or uploading Vine videos, sure. But if you want to take genuinely good videos that you can use professionally, don't even bother. You need a real video camera. We've recommended a number of them in the past, but few have been as convenient as the Blackmagic Pocket Cinema Camera.
This shooter has everything you need for almost any video you'd ever want to take. It takes 1080/30p video, sure, and that can look incredible enough. Beyond that, it's about the size and weight of a standard enthusiast-oriented compact (1.5 by 5 by 2.6 inches, HWD; about 12.5 ounces). And it uses interchangeable Micro Four Thirds Super 16 lenses, so you can be assured of capturing your shot to perfection—or attach hardware to take your shooting to the next level. Support for useful features such as high-dynamic range, or HDR (across 13 stops), only gives you more options.
One thing you don't have to worry about is a lossy recording format. The Pocket Cinema Camera automatically creates a 12-bit lossless compressed CinemaDNG file and a 10-bit Apple ProRes 422 file, both of which are of superb quality. The camera automatically records onto SD cards, too, for maximum convenience in moving, watching, and editing videos. There's also built-in HDMI output so you can easily monitor footage while "on the set," and a high-resolution, 3.5-inch LCD display for getting information about shots as they happen.
Don't expect battery life to be fantastic, however. Blackmagic rates it at about 75 minutes, which won't be enough charge for serious sessions. Keeping an extra battery on hand is practically a requirement.
The biggest drawback of the Blackmagic Pocket Cinema Camera is its price. At $995, it's got a foot fully in DSLR territory—and plenty of other camcorders cost less. If you plan to go down the Blackmagic road, consider the camera an investment. And if you want the video you shoot to look the best it can under any situation, the Pocket Cinema Camera could be one of the best hardware investments you make.