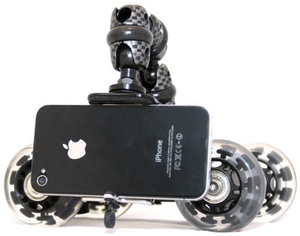 What It Is
iStabilizer Dolly
What It Does
A go-anywhere dolly for your iPhone, iPod touch, or other mobile device.
Where to Buy It
iStabilizer.com
What It Costs
$59.95
Video without motion isn't especially scintillating—after all, that's why you shoot video rather than still photos! But the majority of videos you find on the Web are of either the locked-in-place or shaky-handed varieties. Boring, and nothing you'd want to use to present yourself to your best advantage either personally or professionally. That's a big part of the reason there's so much to like about the new iStabilizer Dolly ($59.95).

You've probably seen or used one of iStabilizer's other products, such as the Flex miniature tripod. But the four-wheeled Dolly gives you even more flexibility if you routinely shoot video with devices other than a dedicated, full-size camcorder. Because it's so small (measuring just 3 by 8 by 5 inches) and light (about 1.3 pounds), it's a snap to take it with you. Load it up with your Apple, Android, or BlackBerry smartphone, iPod touch, or other digital camera, and do a quick tracking shot anytime, anywhere inspiration strikes. (The iStabilizer Mount, included with your purchase, can also be used to secure your phone to any other standard tripod.)

The Dolly is sturdy, with metal plates and axles that help ensure your valuable phone won't take a sudden tumble, but it's also easy to insert and remove your device from the spring-loaded, simple-to-adjust mount. You don't even need to first remove the case or bumper on your smartphone. Yet its motion is smooth, leaving you free to worry about artistic concerns rather than onscreen jerkiness—provided there's no obstruction that may cause your footage to shake. And because the wheels can be turned in any direction, you can create circular movements, dolly zooms, or any other shot your imagination can devise. Angle markers help with precision.

Low-to-the-ground shots are a particularly good use of the Dolly—who likes crouching and stooping?—although it will work on pretty much any level surface. Depending on where you place it, you may be able to hear the wheels moving on the final video, but this shouldn't be a significant problem on most tables and floors. Nor will you have to worry much about the 12.3-ounce limitation on the mounting arm, as most devices you're likely to want to use will weigh less than that. But the whole setup may topple over if you exceed the limit.

It may take a little trial and error to get good using the Dolly. You have to push and pull it yourself, so achieving a consistent speed may be a challenge at first. But once you've practiced a bit, you should be delighted at how much more professional, and exciting, your videos look.