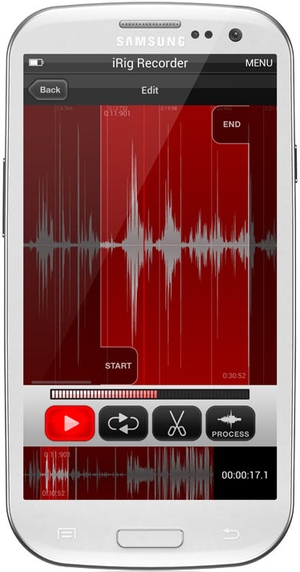 What It Is
iRig Recorder
What It Does
High-quality voice recording and editing for your smartphone.
Where to Buy It
https://itunes.apple.com/us/app/id428498084?mt=8 (Apple)
https://play.google.com/store/apps/details?id=com.ikmultimediaus.android.irigrecorder (Android)
What It Costs
Free for basic recording functionality; in-app upgrades to full version cost more
Last month we looked at standalone recorders that let you capture professional-quality audio, though at a fairly steep price. But there's another (and less-expensive) way, using something you probably already have: your smartphone. Although you can use it to record your voice, that's the beginning and the end of what you can do easily, and it won't be enough if you actually want to put your voice out there and have it sound good. If you're serious about using your phone for this, get serious and download the iRig Recorder app.
Starting off is easy. Just launch the app, then tap the big red "Record" button. (The Android version of the app can start automatically—no button mashing required.) You don't even have to worry about finessing your recording to fit within a certain time limit: The only thing limiting the length of your recordings is the amount of free storage space on your phone. Real-time monitoring lets you see what you're getting, while you're getting it. Once you've gotten it, you can fire up the app's integrated editing tools to start work on it right away—you don't have to get back to your computer first.
The built-in nondestructive editing functionality lets you perform any of the following operations automatically: adjust for optimal volume or equalization, brighten or smooth speech or vocals, clean up background noise, and speed up or slow down the duration of the recording without affecting pitch, or raise or lower pitch without affecting the recording's duration.
Recorder organizes your files by creation date and even geotags them, so you never have to wonder where you were when you recorded something. You can export files in compressed (M4A for iOS devices, OGG for Android) or uncompressed (WAV) formats; and transfer them via e-mail, Wi-Fi, or FTP on either style of phone (though the last requires iTunes File Sharing), or by Bluetooth or traditional copying methods (USB cables or SD cards) on Android hardware.
Naturally, if your files require more extensive editing, you'll need to funnel them into a real audio editor like Adobe Audition or the free Audacity. And the downside of Recorder is that it's not quite as inexpensive as it looks. The free download gets you only bare-bones recording functionality, and to add all the bells and whistles, you'll need to drop a bit more money via in-app purchases. Not that it's that much – just $4.99 on your iOS phone.
That's still a lot less than you'd pay for a separate piece of hardware. So if you have no need of the fancy stuff, iRig Recorder is the way you should go.