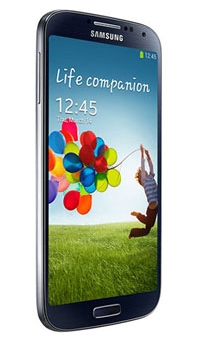 What It Is
Samsung Galaxy S4
What It Does
A new smartphone with smart features and solid hardware.
Where to Buy It
Major smartphone retailers (starting in April or May)
What It Costs
$200 (est.)
What passes for a truly innovative smartphone these days? For that matter, do you even want innovation? In a world filled with a myriad of iPhones, BlackBerrys, and Android devices, everything can appear to be either a throwback or only an incremental improvement. That's not necessarily bad, but it makes it difficult to approach a "new" phone like the Samsung Galaxy S4, which the company announced last week for a late spring release.
This follow-up to 2012's popular Galaxy S III is similar to its predecessor in overall look, feel, and size (5.4x2.7 inches), but boasts an improved Super AMOLED screen that measures five inches across the diagonal and can display full 1,920x1,080 (1080p) resolution. It's packed with 2GB of RAM and up to 64GB of storage (which you can further expand with microSD cards up to 64GB in capacity); the processor will be either a proprietary 1.6GHz Samsung chip or a 1.9GHz model from Qualcomm, depending on where the phone is purchased.
The device boasts two cameras. The one on the back of the phone is 13 megapixels (up from 8MP on the Galaxy S III), and the one on the front is 2MP. Networking support comes by way of EDGE, HSPA +42, and LTE, 802.11a/b/g/n/ac Wi-Fi, Bluetooth 4.0, MHL, and NFC. An infrared transmitter lets the phone function as a TV remote control (complete with program guide). The operating system is a souped-up version of Android 4.2.2 Jelly Bean, which introduces gestures, improved notifications, and other nice extras and tools.
Samsung has undoubtedly integrated some cool features into the Galaxy S4, such as Smart Scroll, which scrolls content you're viewing when you tilt the phone, and Smart Pause, which stops a video you're watching if you look away from the screen and then restarts it when you look back. Air View features from the Galaxy Note 2 and Galaxy Note 10.1 let you hover your finger over the screen to perform some simple tasks. And new photo modes can add a few seconds audio to shots, combine burst shots into a single frame, animate just one portion of a longer video, and create friend-specific photo albums.
But how much of this do you actually need? Iterative changes, however fun, can make for a tough sell when expensive handsets and lengthy contracts are involved. (Samsung hasn't revealed a price, but it will probably run about $200, the same as the Galaxy S III.) If you're happy with your present smartphone, chances are you won't find the Galaxy S4 a compelling upgrade. But don't be surprised if you start encountering its developments and innovations elsewhere, helping along the evolutionary process that will make the next phones better—if not necessarily spectacular trend-setters themselves.