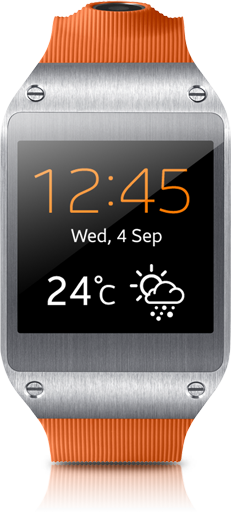 What It Is
Samsung Galaxy Gear
What It Does
Pushes phone functionality to your wrist—assuming you use a Samsung phone.
Where to Buy It
www.samsung.com
What It Costs
$299.99
Dick Tracy–style watch phones were a fanciful solution in those oh-so-innocent days when not even our most creative minds could conceive a phone that small. So why, now that tiny phones are commonplace, are companies still trying to tie themselves to your wrist? Maybe it's marginally more convenient than your pocket, but is it worth all the functionality you'll be giving up? In the case of the new Samsung Galaxy Gear smartwatch, the answer is no.
It's a fun idea, no doubt, being able to answer calls just by tapping your wrist. And with a color AMOLED screen and a variety of wristband styles available, you can customize the Gear to all your own preferences. Heck, there's even a camera integrated into the band.
But the Gear's functionality is limited. Its navigation is sluggish and convoluted—you can't always easily get directly back to whichever screen you just came from—and right now, there just aren't enough apps to take advantage of the technology. You can only take 15-second videos. You can't use e-mail. Those are pretty big deficiencies.
Ultimately with the Gear, you're paying a lot of money ($299.99) for a proof-of-concept product, to say nothing of one that relies on your phone to work—and it has to be a Samsung phone, too. (Right now, only the Galaxy Tab 10.1 and the Galaxy Note 3 are supported; compatibility with other models, including the Galaxy S4, is expected in the near future.)
Even with these problems, we admit to some fascination with these kinds of devices myself; among other things, we consider playing momentarily with a watch a little more socially acceptable than looking away from someone to stare down at your phone. And if you're in a situation where your phone is inconvenient or taboo for some other reason—you're in an audition, maybe?—you don't need to cut yourself off from the world for even a few minutes.
But the Gear's cool factor just isn't high enough to compensate for everything you're not getting. Instead, you could try getting a Pebble (which we've written about before)—at $150 it's a lot cheaper, has more apps, and does most of the same things. Or, if we're being honest, you could do the best possible thing and wait for the technology to mature. There's a market for this kind of device, and we've seen a few interesting implementations so far. But until companies figure out what conveniences they want to provide and how convenient they want to make them, for most people a smartwatch is just not a smart investment.