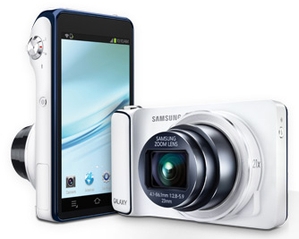 What It Is
Samsung Galaxy Camera
What It Does
A 16.1-megapixel connected camera that features a 21x zoom lens and Android "Jelly Bean."
Where to Buy It
http://www.samsung.com/us/photography/galaxy-camera
What It Costs
$499
In most aspects of life, as when onstage, timing is everything. To get and keep yourself noticed, speed counts. So when it comes to snapping photos you need to send out or post on Facebook or Instagram, you usually have to choose between an expensive standalone camera that takes excellent shots or a smartphone that produces maybe-okay images but gets them online quickly. With its new Galaxy Camera, Samsung is attempting to bridge the gap between the two worlds—with mixed results.
There is some no-holds-barred good news about the Galaxy Camera First, its connected functionality. With always-on 3G and dual-band 802.11n Wi-Fi, you'll pretty much be able to get online whenever you need to. (3G support requires an extra monthly fee, but luckily no contract is required.) Then there are some of its most crucial camera features, the amazing 21x zoom lens and its 16.1-megapixel sensor chief among them. And the 4.8-inch touchscreen LCD is a major asset, almost big enough to let the camera function as a tablet. And because the device is loaded with Android "Jelly Bean," with the wide array of app choices that implies, you can almost use it as one exclusively, and that's definitely cool.
What are the downsides? The price isn't the only thing that's big: Measuring more than 5 inches long and nearly 3 inches wide, and weighing 11 ounces, it's much larger than a phone, and bulkier even than many dedicated point-and-shoots. It takes as long as a phone to boot. Battery life is pitiful—expect five hours or less on a single charge. Part of the reason for that is because all the controls except for the shutter button are virtual (hence the need for that huge LCD), and they're simply not as convenient or as easy to use as physical buttons and dials. Plus, the image quality, although above average, isn't outstanding. Part of your money is going toward being able to get the shots up on the Web quickly.
That's not nothing, and neither is the presence of Android, which helps catapult the Galaxy Camera to the next level. (And will do even better once more dedicated, third-party apps become available for the camera.) Whether it's right for you ultimately depends on how much you need the connectivity and the OS. My advice, though, is a variation on what wise, wizened actors frequently say to up-and-comers: If you can do something else, then do something else. That same $500 will nab you a much better camera, smartphone, or even tablet optimized for just one role. This is the model you want if, and only if, you can't live without all those features blended on a camera. And, let's face it, unless you're pursuing a side or secondary career as a photographer, you probably can.