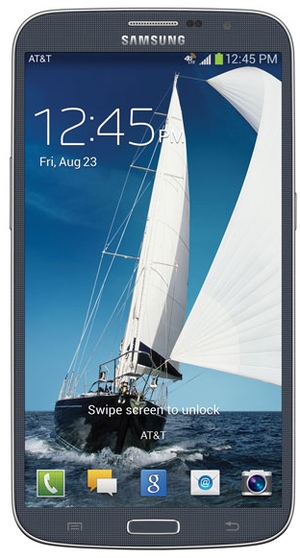 What It Is
Samsung Galaxy Mega
What It Does
The biggest usable combination yet of a phone and tablet.
Where to Buy It
www.samsung.com/us/mobile/cell-phones/SGH-I527ZKBATT
What It Costs
$149.99 (with AT&T contract)
Tablets got a bad rap from some people when they became popular a few years ago: bulky and redundant in a smartphone-driven world, so the chorus went. But to some degree, I always understood their appeal. I don't personally make a ton of calls, and I prefer two-handed typing, so the e-activities that fill my life (taking notes, reading documents, organizing my schedule) have always been more of a chore on a smartphone than a convenience.
So when tablet-size phones (or phone-size tablets?) started coming out, I was intrigued but still not convinced. Wasn't I getting more of one but not quite enough of the other?
Move me closer to the convinced column. The just-released Samsung Galaxy Mega is the first "phablet" I've seen that comes close to fusing the two kinds of devices in a way that really makes sense to me, and seems tailor-made for always-busy, always-on-the-go people who need to do more than talk but don't need (or maybe don't want) to do it on a lot more screen.
This isn't to say you don't get a lot of screen, of course. The display is huge for a phone: 6.3 inches, more than half an inch bigger than the one on the Galaxy Note II. But the Mega is small and light enough (6.59 x 3.46 x 0.31 inches, HWD; 7.23 ounces) that you can comfortably hold it in one hand and hold it up to your eye to take photos (there's an 8-megapixel camera) without looking completely foolish.
More important, it works like a tablet. When you're on the home screen, rotate the Mega 90 degrees and the display will shift as well—this is a rarer feature than you might expect, but it eliminates one major hurdle to using the Mega in landscape mode. And Samsung's Multi Window feature means you'll be able to use all that space for something more than one app at a time (probably the thing I hate most about the Apple way of doing things).
You can quibble about some things—it would be nice to see a screen that big support 1080p, rather than just 720p, but you'd likely need a stronger processor and take a more serious battery-life hit—but for all intents it's a surprisingly sensible mash-up.
The Mega is just what it needs to be: a killer productivity device that makes phone calls. You can move from talking to texting to reading to watching a video, all without missing a beat or squinting at any point.