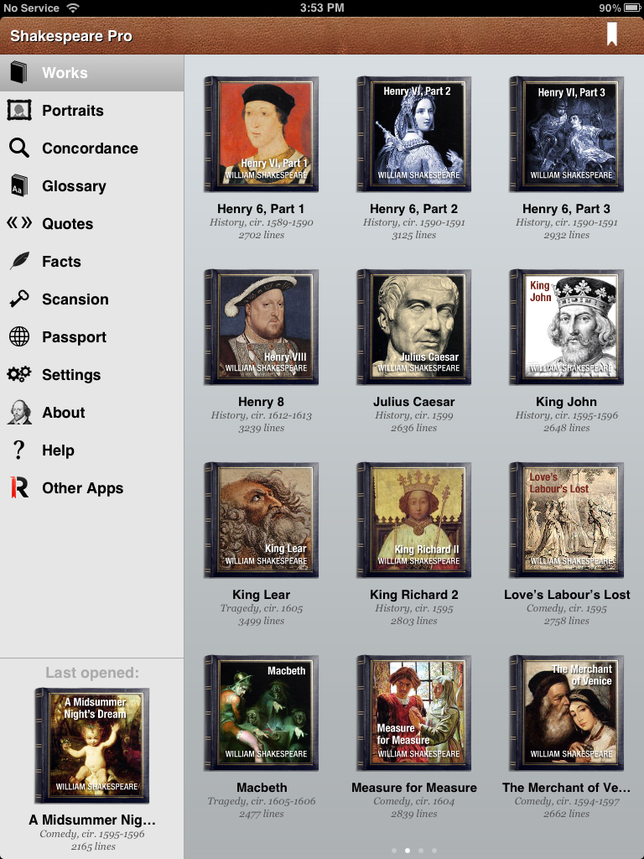 What It Is
Shakespeare and Shakespeare Pro for iOS

What It Does
A complete Shakespeare reference collection for your iOS device.

Where to Buy It
Apple App Store

What It Costs
Free (Shakespeare), or $9.99 (Shakespeare Pro)
Working in the theater—in pretty much any capacity—means knowing Shakespeare. Even if you're not doing one of his plays right now, you probably will be eventually, and the Bard's still-strong reign as a popular source of trivia, one-liners, and inspiration for other artists means that you need as good a grasp on his life and works as you can get. The free Shakespeare app for iOS devices gives you all that and more.

In addition to containing the full (scrupulously edited) scripts for all of Shakespeare's plays—including a few of shared or dubious authorship, such as "Double Falsehood," "Sir Thomas More," and "The Two Noble Kinsmen"—and the texts of his sonnets and narrative poems, the app also includes in-depth scene-by-scene breakdowns of the action and detailed profiles that present every character's story from beginning to end and provide a full list of scenes in which he or she appears.

Want to dig even deeper? Read the full text of the plays exactly as they appeared in the First Folio. And at the opposite end of the spectrum is "Tales from Shakespeare," Charles and Mary Lamb's 1807 "children's story" adaptations of 20 of the plays. The ability to search through all of Shakespeare's writing by using a single term (in the "Concordance" feature) is a huge time saver all on its own.

An expanded edition of the app, Shakespeare Pro, is available in the App Store for $9.99. It includes everything discussed above, plus a gallery of Shakespeare portraits, a one-stop compendium of the most famous quotes and their sources, a collection of key facts about the man and his works (including a tour of Elizabethan theaters, a chronology, and line counts for plays and characters alike), and a primer on scansion to help you better speak the speech. I'm not convinced any of these justifies the added price, but the extensive glossary, loaded with definitions and cross-references for 40,000 unusual or archaic terms that appear in Shakespeare's writing, is an invaluable asset to both readers and performers.

A few options in the Settings screen let you change the display's color scheme, show line numbers or long character names, change the font, and so on. Such control over the presentation can't, however, obscure the fact that Shakespeare is a simple app designed for a simple purpose. But whether you're preparing for a role or trying to reinforce the foundations of your relationship with one of the world's best-known and most popular playwrights, the way the app looks is rightfully subservient to the information and the art it contains—both of which are as gorgeous as they can be.