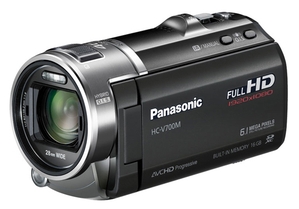 What It Is
Panasonic HC-V700 and HC-V700M
What It Does
Camcorder for shooting high-quality video in any lighting situation.
Where to Buy It
Consumer electronics retailers
What It Costs
$549.95 (HC-V700, with no built-in memory); $599.95 (HC-V700M, with 16GB of memory)
Whether it's because you're shooting a web series, making a demo disc, or looking to record your lessons or performances, you need a good way to shoot good video. Starting at $549.95, Panasonic's HC-V700 is not inexpensive, but it takes excellent shots in almost any environment and packs some crucial capabilities to help you capture the scene right the first time. Sometimes quality really is worth paying a bit extra.
The HC-V700 is one of the rare current consumer models that can record full 1080p video at 60 frames per second (1080p60). But there's also top-notch image stabilization to help you keep your picture constantly steady. This is true even if you use the camcorder's mammoth zoom—21x optical, up to 46x when you factor in its digital Intelligent Zoom system. With features like these, you're well equipped to take practically any shot from anywhere.
Discriminating videophiles might notice some minor issues with color saturation and white balance, and the HC-V700's still images are not the best. But for the most part its video is outstanding, whether you're shooting in dim or well-lit areas, and even heavy action blurs very little in 1080p60. Because some editing software, including Apple's iMovie, doesn't support this bleeding-edge mode, you may either need to convert your clips before editing them or settle for shooting in the more universal 1080i60—which will still turn heads.
The 3-inch touch-equipped LCD screen can rotate 360 degrees so you can view it at any angle, and its screen is nicely viewable no matter where you are. There's a mini-jack input for microphones, and a removable shoe for attaching an external light or other accessories. With a mini HDMI port for playing back your video on an HDTV and a mini USB for easily transferring clips to your computer, you have almost everything you need.
What don't you get with the HC-V700 is Wi-Fi compatibility, for one thing. Also, although the HC-V700 can shoot in 3D, you'll need to spring for an optional conversion lens in order to do it. And it's also missing built-in memory, which won't be much of a problem if you have a decent-capacity SD, SDHC, or SDXC card (up to 64GB in capacity) on hand. But if you happen to have a spare $50, the $599.95 HC-V700M comes with 16GB of built-in storage space. It's about the only way to make this terrific camcorder even more useful.