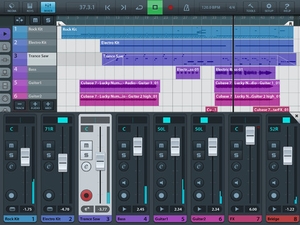 What It Is
Steinberg Cubasis
What It Does
Real Digital Audio Workstation app for the iPad, with killer features for any pro musician.
Where to Buy It
https://itunes.apple.com/us/app/cubasis/id583976519?mt=8
What It Costs
$49.99
Don't get me wrong: GarageBand is terrific. Apple's software makes it easier and more fun to create your own music than almost any other composition program ever has. But it's ultimately a toy, putting up walls you'll bash into should you ever desire to take your creations to the next, more professional level. If you're a serious musician, or if you aspire to be one, then you owe Cubasis your consideration.
As its name suggests, Cubasis is a new "entry point" for Steinberg's Cubase software for Digital Audio Workstation arranging, recording, and editing tasks—and one that takes full advantage of the unique features of the iPad (particularly multitouch), just like GarageBand does. But it goes even further by giving you the robust options you need to do real work.
It has upwards of 70 virtual instrument sounds, and virtual keyboard and drum pads to input them. There is the potential for pretty much any number of audio and MIDI tracks (and the ability to play 64 voices at once if you have one of the two newest full-size iPads; you're limited to 48 voices on the iPad 2 or the iPad mini). It has a mixing console with more than 10 effect processors, and more than 300 MIDI and audio loops. There is also a sample editor and a key editor, so you can always get precisely the sound you want.
Compatibility is really where it's at with Cubasis, though. It supports Core Audio– and Core MIDI–compatible hardware, and you can export your projects to Dropbox, SoundCloud, AudioCopy, e-mail, and, of course, the full version of Cubase 7. You can also import songs from your iTunes music library or iTunes file sharing, AudioPaste, or a Wi-Fi server. You even have the capability to sequence other Core MIDI apps while you're running Cubasis via background audio.
What's the catch? Price, naturally. Just as Cubase isn't cheap (it runs $500 new), neither is Cubasis: You'll have to drop $49.99 to get it, which definitely makes it one of the more expensive pro music apps you can find (to say nothing of more than three times as much as the full Mac OS version of GarageBand).
That cost, however, should prove that Cubasis isn't a toy, but rather the real deal, a near-complete DAW solution for those who care a lot more about functionality than they do having fun. If that's you, because you're trying to create the perfect backing tracks for your band or your act, or if you just want every project you work with to sound its best, then Cubasis is a remarkable, exciting new product worth the money and a download.
One word of warning: If you don't already have Cubase, you'll probably find yourself wanting it, too, once you get started with Cubasis.