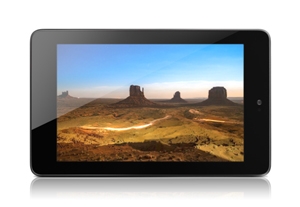 What It Is
Google Nexus 7
What It Does
A powerful, portable Android tablet that costs hundreds of dollars less than an iPad.
Where to Buy It
play.google.com
What It Costs
$199 for 8GB; $249 for 16GB
We know, we know. When it comes to tablets, you want an iPad. Who can blame you? It's cool, good-looking, and can run thousands of apps touching on every possible goal or interest. There's just one problem. Starting at $499 for the lowest-end model, iPads are also seriously expensive. If you want a tablet for keeping yourself connected and productive on the go, you don't need to spend $500. For only $199, you can pick up the Google Nexus 7, a sub-$200, Android-based wonder that triumphs over previous budget offerings like Amazon's Kindle Fire and the Samsung Galaxy Tab 2 without making you feel like you're compromising.
Smaller than the iPad (its screen measures 7 inches) and easier to carry, it also has an excellent high-resolution (1,280?800) display you can easily see indoors or outdoors, and is powered by a four-core Nvidia Tegra 3 processor—one of the fastest available for mobile devices. As a result, the Nexus 7 gives you incredibly smooth operation, making everything from reading books and studying scripts to researching on the Web a breeze. If that wasn't enough, it also has outstanding battery life: upwards of 10 hours.
The hardware is paired with the latest version of the Android operating system, version 4.1 (aka "Jelly Bean"), which is loaded with new features that could be a tremendous help to you whether you're at home or out and about. It uses the personalized search tool Google Now to provide useful information like real-time traffic details so you'll know how you're poised for getting to your audition on time, and you can access maps and dictation functions even when you're not connected to the Internet.
No, the Nexus 7 doesn't have everything the iPad does. It supports only 802.11b/g/n Wi-Fi on the 2.4GHz band, for example—though, by point of comparison, you'll need to spend $629 or more for an iPad with cellular capabilities. Its plastic backing gives it a slightly cheaper feeling than you get with Apple's ultra-sleek metal slate. There's no rear-facing camera, just a front one. Google Play isn't as robust as the iTunes App Store. And you're going to have to be content with limited storage space: The $199 model comes with only 8GB, and your only other option is the $249 16GB model, whereas you can get as much as 64GB with an iPad.
But the Nexus 7 has practically everything else going for it. If you don't mind giving up that iconic Apple style, this is one of the most impressive tablets you can buy. And it costs little enough that you'll still be able to convince yourself that it's an investment and not an indulgence.