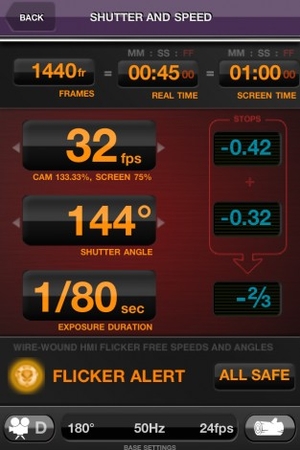 What It Is
Toland ASC Digital Assistant
What It Does
Automatically analyzes camera settings to help you get exactly the shots you're looking for.
Where to Buy It
https://itunes.apple.com/us/app/toland-asc-digital-assistant/id377419210?mt=8
What It Costs
$39.99
You may never have heard of Gregg Toland, but chances are you're familiar with a few of his works. "Wuthering Heights." "The Grapes of Wrath." And, oh yeah, a little film called "Citizen Kane." Toland (1904-1948) was an acclaimed cinematographer who helped transform the visual art of movies just as they were entering their Golden Age—so it's only appropriate that a modern-day tool designed to supercharge cinematography would bear his name.
Designed by Chemical Wedding in association with the American Society of Cinematographers, the Toland ASC Digital Assistant is an interactive rendering of the depth of field and field of view charts from the ASC Manual. You select from a variety of cameras and lenses (both film and digital), input your focal length, aperture, and distance, and then the app tells you the proper settings for your close focus and far focus depth of field.
Simulated representations of depth of field and field of view help give you vital stats about what you'll get in your final shot. An "exposure assistant" tell you how much illumination you need for your selected settings. And if you don't know what sort of exposure compensation you need, it can calculate that for you as well based on your shooting speed, shutter angle, filters, and so on. Need to know how your running time will be affected—and, if you're using actual film, how much of that you're using? Toland can tell you all that as well. And when you're finished, the app can produce a report of all the vital data.
If all this sounds on the involved and complex side, it is. (The price, $39.99, certainly pegs it that way, too.) It was designed for professionals after all, and therefore offers more options than you are probably going to need for most everyday shooting projects. It has the potential to be difficult to learn—Chemical Wedding even recommends devoting yourself to the user guide—and its interface may not be intuitive to you if you're not steeped in the business.
But for getting tons of information about any and every aspect of your shot, so you'll get exactly the look you want, when you want it, you'll be hard pressed to do better than this. No, you probably won't end up creating the next "Citizen Kane"—especially if you're not working with Orson Welles!— but if you take the process seriously, and are willing to put up the cash and learning time necessary for Toland to do its stuff, whatever you're shooting will undoubtedly look better.