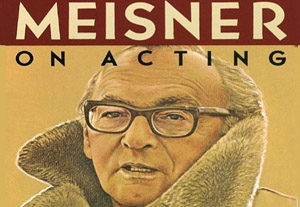 We asked the staffs of the Drama Book Shop in New York and Samuel French in Los Angeles for their picks of the top 10 books every actor should own. Here are their choices.
The Drama Book Shop, New York
1.
"Stella Adler on Acting" by Stella Adler
Adler fuses multiple techniques and methods to create an approach to acting that is all-encompassing, rich, and multilayered. Perfect for the professional and novice alike.
2.
"Auditioning" by Joanna Merlin
A former casting director for Hal Prince and a working actor, Merlin gives exceptional advice from her experience on both sides of the audition table. What she does best is address the many ways in which actors sabotage themselves and the many things they can do to harness their personal power to deliver the best audition possible. This book is uplifting and demystifies the sometimes scary process of auditioning.
3.
"How to Get the Part…Without Falling Apart" by Margie Haber
 Covering both acting for the camera and auditioning for the camera, this book is great and informative when read cover to cover, but it also provides quick-to-pick-up tips for those with a short attention span. It also includes a major bonus: sample TV and film audition scenes. A must-have book for the film actor.
4.
"Truth" by Susan Batson
The acting coach and founder of Black Nexxus, an acting school in New York and L.A., strips away acting technique to reveal that which is most honest. The book is filled with tons of practical tips to help you break down the script and create a unique character.
5.
"The Lucid Body" by Fay Simpson
This is a wonderful book that approaches acting through movement and the chakras, the seven energy centers of the body, according to yoga philosophy. It's a new approach to acting based on where the character lives in your body.
6.
"Impro: Improvisation and the Theatre"  by Keith Johnstone
A must-read for anyone remotely interested in the performing arts. Johnstone calls on readers to bring the creativity and whimsy of improvisation into all corners of their lives and art. It will open your mind and provide food for thought for the inner child and inner artist.
7.
"Playing Shakespeare" by John Barton
This is one of the most definitive texts on performing Shakespeare. With more than 35 years of directorial experience with the Royal Shakespeare Company, Barton walks the actor through Shakespeare and the workshop process with the help of numerous great Shakespearean actors.
8.
"Make Your Voice Heard" by Chuck Jones
With root exercises similar to those of the Linklater technique, Jones takes the idea of range and clarity in the speaking voice and integrates it with the emotional freedom and connection that modern acting techniques require.
9.
"Second Circle" by Patsy Rodenburg
This is the most recent book from this renowned actor, director, and teacher, and her first to focus on acting solely from the perspective of energy. It's excellent for both actor and civilian, encouraging you to find your power, energy, and center so that you can be present in a scene and in life.
10.
"Mystic in the Theatre" by Eva Le Gallienne
This is more than just a biography of Eleonora Duse, acclaimed stage actress of the early 1900s. It is an inspirational tale of the courage and passion necessary to pursue a life in the theater.
The Drama Book Shop, 250 W. 40th St., New York, NY 10018; (212) 944-0595; www.dramabookshop.com.
Samuel French, Los Angeles
1.
"Acting: The First Six Lessons"  by Richard Boleslavsky
An actor, director, teacher, and member of the Moscow Art Theatre, Boleslavsky offers the six basic lessons for actors of all disciplines and experience. A classic text.
2.
"Acting in Film" by Michael Caine
A fascinating, practical take on moviemaking from the two-time Academy Award winner.
3.
"Actions: The Actor's Thesaurus" by Marina Caldarone and Maggie Lloyd-Williams
An essential companion for actors in rehearsal: alphabetically arranged "action words" to revitalize any performance.
4.
"The Actor Takes a Meeting" by Stephen Book
How to interview successfully with agents, managers, producers, and casting directors.
5.
"An Actor's Work" by Konstantin Stanislavsky
The master's seminal acting texts, "An Actor Prepares" and "Building a Character," together in one volume, in a new translation by Jean Benedetti.
6.
"The Art of Acting" by Stella Adler
With a preface by Marlon Brando, the grande dame of American acting teachers reveals her decades of experience in these 22 lessons, collected here for the first time.
7. 
"Audition" by Michael Shurtleff
The famed Broadway and Hollywood casting director reveals everything an actor needs to know to get the part.
8. 
"A Challenge for the Actor" by Uta Hagen
In this follow-up to her popular book "Respect for Acting," the celebrated actor and teacher greatly expands her thoughts on acting, through exercises of extended scope and range.
9. 
"The Intent to Live" by Larry Moss
Achieving your true potential as an actor, from the renowned acting coach and teacher.
10.  
"Sanford Meisner on Acting"
by Sanford Meisner with Dennis Longwell
With an introduction by Sydney Pollack, this is the only book that reveals and explains the technique of this celebrated teacher of three generations of actors.
Samuel French, 7623 Sunset Blvd., Hollywood, CA 90046; (323) 876-0570; and 11963 Ventura Blvd., Studio City, CA 91604; (818) 762-0535; www.samuelfrench.com.