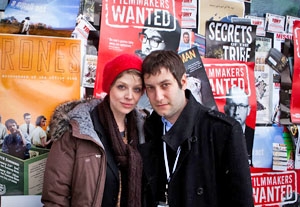 Amber Benson and Adam Busch are true multihyphenates. Both boast a long list of acting credits, including stints on the TV cult classic "Buffy the Vampire Slayer." Both channel their creative energy into other mediums: He's part of the successful folk-rock trio Common Rotation; she's the author of popular urban fantasy series "Death's Daughter." In addition, both are as comfortable behind the camera as they are in front of it, producing and directing their own work.
Recently, the real-life couple teamed up to co-helm "Drones," a screwball sci-fi comedy set in a seemingly mundane cubicle farm. The film, which bowed at Slamdance earlier this year, stars such diverse talents as horror queen Angela Bettis ("May," "Girl, Interrupted"), Obie winner and cartoon superstar James Urbaniak ("The Venture Bros.," "American Splendor"), and "Freaks and Geeks" alum Samm Levine ("Inglourious Basterds").
Back Stage
: How did this project come together?
Adam Busch
: We kept falling into situations as we ran around New York City and Los Angeles of, like, "Let's do something with somebody. We like hanging out; let's do something." I knew a producer in Louisiana named Jordan Kessler who'd been making a lot of genre pics out there and doing well with it. I kept pressuring him to make something, and eventually I flew him out here and showed him this little world of actors and artists that have all been brought together through this thing called "The Thrilling Adventure Hour," which is an old-time radio show. The writers, Ben Acker and Ben Blacker, have a good group of actors they use, and we had done some work with them. I flew Jordan out here, and I said, "Check out this scene; we should make a movie out of everything that's happening here." He had an opening about a month or so later, and he said, "Can you get me a script that takes place in an office? 'Cause I have an office." I called up Acker and Blacker and said, "If you can take what you do and condense it into a movie screenplay and have it take place in an office, then we can make it. We can hire all our friends, and we can do it." A week later, they had finished the script. A week later, we were in preproduction. The week after that, we were shooting. Fourteen days later, we were done.
Amber Benson
: It was really interesting, because we got to cast people that we love. Both of us are actors, and we come from that background, and I hate the audition process. I find that it impedes people's ability to be creative. Everyone's nervous about being there. James Urbaniak, one of the actors from the film, he's like, "It's a different performance than I give when I actually get the part." I find that that's true. Every audition I've had where it's a meeting, it's not reading, I feel like those are the most productive experiences. I'm getting to know the director or whoever's in the room and they're getting to see who I am. 'Cause a lot of times, they don't care about the acting. You walk in, and you're it or you're not, and you can open your mouth and read and be amazing, be the best actor that walks into the room the whole day, and it's not going to be enough. It's really about what you look like and who you are and if you fit that image of what they have in their head.
Busch
: It's important to be stereotyped in Los Angeles, to be a cliché. Because all the auditions you have are either going to be for the nerdy guy or the wild guy. So you better pick what you are really fast and dress like it and act like it and pray that somebody stereotypes you as one or the other. 'Cause if you're an actor from New York who could do both roles in "The Odd Couple," then you won't work. So when we made "Drones," what we wanted to do in casting was just do the opposite of that for once. To give people not the role that they get cast in all the time but the role that they should be playing, the role that they want to play. We gave James Urbaniak the boss role, a position of authority, which he never gets: He's always underneath some greater force in everything he does. We asked Angela to do a comedy. Everyone wants her to star in their horror film, 'cause she's known for that; they think that's all she can do—but she's hilariously funny. She said, "You're the first people that asked me to do comedy."
Back Stage
: How did you split up the directing chores?
Busch
: I think on the day, in terms of the military-style teamwork of getting it done, you tend to delineate stuff. I tend to deal with the look and the style and the actors, and Amber tends to deal with the lighting and the camera. But then when we come together to edit, it's a complete collaboration.
Benson
: Adam loves working with actors. I love actors, but I don't enjoy discussing motivation for an indefinite period of time. He really gets into the psyche of the character and the psyche of the actor and finds unique ways of dealing with each actor. It's funny, because I've heard all the actors talk about working with us as co-directors, and each one has had a different experience. Like, James Urbaniak talks about how Adam and I were very hands-off and we let him do his thing. And then Jonathan Woodward talks about how he and Adam built this character from the ground up. So I think it's about being smart enough to realize that, like children learn differently, actors work differently, and you have to create the right environment, so each actor feels like they're able to do their thing.
Back Stage
: Both of you have careers in other arenas—writing, music. Why is it so important for actors to be proactive about honing their other talents?
Benson
: I was 14 when I moved out here; I'm 33 now. That's how long I've been doing this. And I have seen it change. [There used to be] this audition process of lots of people coming in—people that had never worked before and people that had worked, and there was this diversity of actor. Now that just doesn't exist anymore. It has become such a small, little world. Parts that Adam and I used to audition for go to famous people now. The middle-class actor is gone. So you do find that you have to do all this other stuff. I write books; Adam has a band. We both do all kinds of other stuff, because we would not survive otherwise.
Busch
: I think it's back to the studio days, where you should be a singer, a dancer, a writer; everything creative, you should be able to handle and do at the drop of a hat. You should know about voiceover. You should be able to record your own stuff on the computer. There's no excuse for not being able to tape an audition and send it in on your laptop.
Back Stage
: It seems like a lot of indie filmmakers are going with nontraditional distribution methods these days. What's your plan for "Drones"?
Busch
: I think the new game should be, for any filmmaker, getting as many people to see it as possible. Some people are so tied to a studio system that is now dead. They think the only way to make a movie is with a big budget or with a studio behind it.
Benson
: And have as many famous people who aren't right for the parts as possible involved.
Busch
: If you can get more hits on a YouTube clip than a show on a network can get viewers, then you're wasting your time trying to get on television, and you should pay attention to doing as good a clip as possible and putting it out on the Internet. So that's the game, I think, is being open to anything that would allow people to see it.
Benson
: We are very much of the mind that giving it to your fans is more important than trying to sell it. We really want to do a "Dr. Horrible's Sing-Along Blog" kind of model. Right now, we're hitting some film festivals and we're partnering with 826LA to have a benefit screening at the Egyptian on April 13. We're talking about doing little screenings with 826 at all their different venues around the country. And then we're talking about putting it online and making it available to people for free, and then once it's been up there for a bit, taking it down and making it available on iTunes and DVD. I think Joss [Whedon, co-writer and director of "Dr. Horrible"] and those guys did a beautiful job. That is the world we feel like "Drones" inhabits: It's that same sci-fi audience; it's that same sensibility, where there's that tongue-in-cheek sense of humor but with a depth. We've had offers from distribution companies, but it's like, it'll go on-demand for two seconds and then go to video, and no one will ever see it. Why do we want to do that if we can make it available ourselves and reach a heck of a lot more people? I feel like, when you work within the studio system, you have no autonomy. You are really under somebody's thumb. You do it with your friends, you do it for a little money, and you have control. And then you make the product you want to make.
"Drones" will premiere April 13  in Los Angeles at the Egyptian Theatre as part of a benefit for 826LA. Tickets: http://826ladronesscreening.eventbrite.com Info: http://dronesmovie.com.