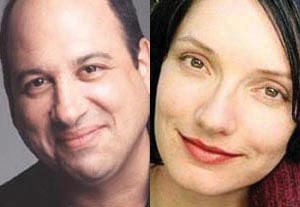 Working Actor columnists Jackie Apodaca and Michael Kostroff chat about ink-stained good times gone by.
Michael Kostroff:
So, Jackie, this week we've been asked to write about our fondest Back Stage memories, and as I thought about this assignment, I found myself thinking not so much of my perspective as a writer for Back Stage but more as a reader. You and I are both actors, so we've had that anticipatory experience of cracking open each issue in search of tips, guidance, job leads—you know what I mean?
Jackie Apodaca:
Absolutely! I remember going out to buy the new issue as soon as it was available. Maybe I'm dating myself, but I discovered Back Stage West when it was print-only, and it was such a big deal in L.A. that you could buy it just about everywhere, even convenience shops like 7-Eleven. Thursday was a big day! I would read the entire paper—and I mean every single word, even the ads, even the tiny, postage stamp–size ads—searching for guidance! I had completed a BFA acting program and had an MFA from a prestigious conservatory, but no one had prepared me for the acting business and I was dying for information. Back Stage was a lifeline in those early years.
Did you ever submit to Back Stage notices in New York?
Kostroff:
Yeah, but I was pretty timid at first. Just buying my weekly copy took nerve, because in my young paranoid mind, I imagined the guy at the newsstand was evaluating whether I was professional enough to be "Back Stage worthy" ("Oh, so you're an actor, huh? What have you been in? These here papers are for professionals, pal."). I still felt like I was an outsider, pressing my nose up against the glass. But over time, I worked up my nerve to start actually attending auditions and sending out mailings.
I remember the breathless religious awe with which I'd perform the Thursday ritual: I'd scour the listings for stuff I was right for. It was like a treasure map. Any one of those casting notices could lead to the actor's holy grail: an actual paying job. Now, all these years later, I'm a busy working actor. The process is a bit less mysterious, and booking a job seems slightly less miraculous than it did then. But I still love that crazy, unpredictable X factor: Who knows what new project could be just about to put out a casting notice? I guess that's what keeps us going. We could be unemployed today and land a great gig by next week.
I know there are young actors today who experience Back Stage as we did. It's so cool to think we now write for that paper. When you first brought me on to replace you when you went on maternity leave, I was nervous. Do you remember that? I felt (and still feel) a huge responsibility in dispensing advice to Back Stage readers.
Apodaca:
Of course I remember! I was so determined to find a good replacement—a working actor and writer. Funny enough, I never would have found you had I not reviewed your book, "Letters From Backstage," for Back Stage. I felt like, this guy gets it. I had (and still have) such respect for the responsibility of this job that I didn't look lightly at finding a replacement.
I remember reading my predecessor's advice column, Tombudsman. Tom Mills was the consummate professional. I don't know if you know this, but I had actually written a letter to him asking for advice. He helped me, via the column, cut ties with a crooked manager and probably saved me days if not weeks of grief. It was such a relief feeling like there was someone I could go to with questions who would help me sort through the mixed information I was getting. So standing in his shoes was such a huge honor and responsibility.
I wrote the column weekly for many years, but I am so glad to be sharing it these days. Do you have any favorite memories of working for Back Stage thus far?
Kostroff:
Well, as you know, most of the time we send these words off into the ether and never know whether they've been of any help. I know we sweat over every column, hoping we're giving good, responsible, informative advice, but for the most part we go on faith. But every once in a while I'll be teaching a workshop, attending a show, or speaking at a college and someone will come up and tell me they read the column regularly. There was even a casting director at an audition who told me she never misses it.
But what's even cooler than that are those rare times when someone writes back with an update. I'm thinking specifically of a kid in Maryland who was so desperate to move to L.A. that he gave his folks a PowerPoint presentation on the subject. I advised him to reframe his pitch and see if his parents would agree to just make a fact-finding visit for a month or two. He wrote back once to say they were considering it, and again to say they'd signed on and were setting up meetings with agents. That was pretty damned thrilling.
Your turn. Whaddaya got?
Apodaca:
Like you, I think the most satisfying aspect of this job is getting to actually help people. It's a tough business, and we both like to be blunt about that, so it's wonderful to hear back from actors who have been able to use our advice as a support system. I am particularly satisfied to be able to provide practical help, whether that means calling out someone involved in a scam, clarifying the rules of a complicated union situation, or linking an actor to a badly needed resource. I have had so many occasions over the years when I've been able to be that link. It's been a blessing.
Kostroff:
I hope we don't sound like we're talking ourselves up. Honestly, it's pretty humbling to be entrusted with this task. And of course, it's not as if we're always right. And when we're not, those readers let us know, don't they? And you know what? I appreciate those letters too. They often make good points. And at least we know folks are out there reading.
Apodaca:
And Back Stage has been a fantastic place to work. I've been able to really grow in my work there—from doing fact-checking on lists, to writing theater and book reviews and feature articles, to doing this column for more than eight years now. I've learned so much in that time, and hopefully, I've helped other actors grow as well.
Do you have a question for The Working Actor? Click here to send your question today!