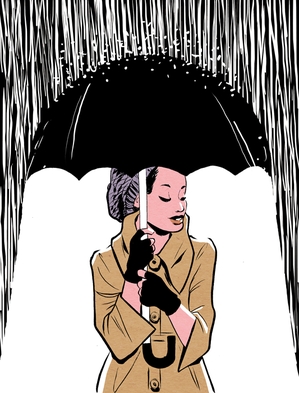 I spend a lot of time in this column talking about how unpredictable our profession is, how devoid of solid, consistent answers. That's because I think we need to acknowledge those characteristics and not lie to ourselves. One reason for all that uncertainty is that professions in the arts offer far less correlation between merit and success than most others. Sometimes, lousy actors have careers while great ones are overlooked. There's no moving up in the company, no seniority, no quarterly evaluations and raises, and impressive credentials don't always lead to others. If your restaurant is named best in the city by several reviewers, business will almost assuredly increase. But that's not so in our business, is it?
I was vividly reminded of this the other night while catching up with a friend who, not long ago, won a Tony Award. "How are you?" I asked. "Well," she said, "I've spent my savings and cashed in my IRA. So…that's it. I'm out of money." This woman is among the best in her field, according to those who decide such things. Trust me when I tell you, she is supremely talented. It's shocking…until you remember that this type of unpredictability and unreliability is the norm.
So what do we do? Well, for one thing, we don't rely on show business to support us. Ever. Though I've made my living as an actor and writer for some time now, I would feel neither shocked nor betrayed if I were to need to return to a day job. And that's my roundabout way of getting to this week's advice.
Many of you are acquainted with the Actors Fund. It's a really wonderful organization that has saved many a thespian's butt through its various programs. One of those is the Actors Fund Work Program, which offers "career counseling, job training, and job placement to help clients find work that can be done while continuing in the entertainment industry or while developing a new professional direction."
Now, you want to do something really, really smart? Like "I can't believe I was this smart" smart? Take advantage of the AWP long before you need to. "We encourage entertainment industry professionals to become active in our program while their careers are going well," says the Actors Fund's Patch Schwadron. "Since it can take time to identify and develop meaningful sideline/parallel/new careers that will complement the pursuit of industry work, why not invest some of the time you have when you are less stressed about finding paying work, so that when you need to generate additional income, you will have a plan of action?"
Friends, this is really wise advice. Instead of waiting for a crisis (like couples who start marriage counseling too late) consider attending an AWP orientation, meeting with a counselor, and cultivating new sources of income now, to avoid an emergency later. I did it last week, and I'm "the working actor." I'm going to learn to write grants, just in case.
You can find out more about the Actors Fund and its programs, including the AWP, at www.actorsfund.org.