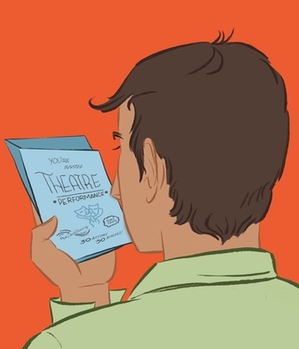 Dear Michael: I'm a young actor about to finish a two-year program at a prominent acting studio in New York City. As part of our program, we'll be acting in a production that will serve as our "showcase" piece. To my knowledge, a showcase is a platform to introduce new actors to the professional world, to show what they can do. The problem is, it seems impossible to fill the seats with the types of people we're trying to attract. We've seen fellow students in various studios and schools put up these showcases, and they're lucky if even one industry professional comes. The show is approaching, and we're trying to get our ducks in a row to make sure we publicize it effectively and efficiently. How can a group of unknown actors get industry professionals to attend a show?
—Amateur Publicist
Dear A.P.: The primary responsibility for filling those seats with worthy attendees lies with the school or studio hosting the showcase. Industry pros attend these things regularly, so I'm puzzled that your acting studio finds this so challenging. Regardless, I think you and your colleagues are wise to seek out ways to support that effort as best you can.
You all need to work together on this. Have a meeting to brainstorm strategies and style. Think in terms of giving these guests a reason to attend—things they'll enjoy. Wanting them to come isn't enough. Make the event appealing, so they won't think of attending as a favor to you but to themselves. Materials you send out should suggest a group of people who are organized, professional, and ready to work. Use good paper, professional photos, well-designed graphics, and unified logos and fonts, and for God's sake, proofread, proofread, proofread.
Discuss the overall vibe. If you're doing individual scenes or songs, give the night a theme—something that links the pieces together—like "Betrayal," "Modern Love," "Liars and Losers," "The Power Struggle," "Man vs. Machine." That makes it easier to promote.
Other things that may appeal to potential industry guests include cushioned seats, air conditioning or heat, food and drink (perhaps tied to your theme), brevity (these folks are often tired at the end of a long day; short is a plus), and a good-sized cast, which offers better chances of seeing someone good.
Pool your resources. See who's good at what. List your connections, as well as others you'd like to invite. Don't limit yourself to casting directors and agents. Invite directors, aspiring directors, working actors (they may be able to recommend someone in the showcase to their agents), and friends and family for support.
Send out your invitations, follow up, then follow up again a day or two before the event. It pays to be assertive and ask for commitments, but keep presenting your showcase as something worth seeing.
And then, let it all go and enjoy putting on your performance.