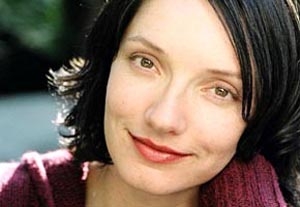 Dear Readers:
Things change.
Take a look at this back page. It looks nothing like it did back in 2003 when I started writing The Working Actor. Back then, I was living in Los Angeles, pounding the pavement in search of acting gigs. I was with a boutique agency, trying to turn my frequent commercial gigs into something more in line with what I thought I wanted: ongoing, serious acting work.
Since then I've been surprised to find my desires far more complex than I could have imagined. I had children and found I couldn't stomach leaving them in daycare so I could be at the ready for my agent's call. I landed a neat "day job" teaching acting at UC Santa Barbara and was surprised to look forward to my classes far more than to auditions. While I stayed current on shifting business trends and audition practices for my work at Back Stage, my desire to pound the pavement faded. I was still acting via contacts I'd made in earlier years, but I left my agent and moved to Santa Barbara, where I planned to pursue a more balanced life. I'd do that, I thought, while I continued acting, teaching, parenting, and writing this column. I was immersed in four fantastic jobs at once. It was incredible…and I was exhausted. So last year, when I had the amazing opportunity to relocate to Ashland, Ore., as an associate professor of theater at Southern Oregon University, I took it.
Over this past year, in this lovely little town, I've realized that if I'm ever going to achieve that elusive balance I can't continue doing four jobs at once. So it is with deep sadness that I have to let this one go. I have no idea how to write my last lines as a Working Actor columnist. It's been an incredible journey and I've taken great pride in being senior columnist at a storied institution such as Back Stage. But things change.
Before I took over this column, it was titled Tombudsman and had been written for a decade by my predecessor, Tom Mills. I never met Tom but read Tombudsman for years before coming aboard Back Stage myself. Tom was like a friend to me in those early days, someone looking out for actors like me who had trained extensively in the craft but hadn't the first idea how to land a job. I hope I have served that function half as effectively as he did.
Thank you for reading me for nine long years. I truly hope I've been a voice of support and sanity along this crazy career path. I'm staying on with Back Stage as a contributing writer, so you'll see my byline again soon.
Be kind to yourself as you seek your own balance, and always remember that acting is not your calling. It's your choice.
With deep gratitude,
Jackie Apodaca
Ashland, Ore.