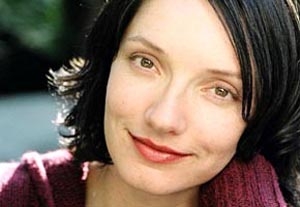 DEAR JACKIE:
I just wanted to thank you for running my story ("Name Decisions," The Working Actor, Sept. 16-22). I got a great response from my friends and family.
I've committed to a brand-new name. I went to SAG on Friday to make it official. It's Satu Makeda—easier to say, and memorable. I followed your advice, and the general consensus was to change the last name. I tested it out at Actorfest NY this weekend with about five casting directors, and so far so good. I think it was the right choice, and I'm sticking with it, for good. Thanks for all the help.
—Satu Makeda (formerly
Rautaharju) via email

DEAR SATU:
I am so glad we could be of help. Back Stage readers were in agreement that you should keep your original, lovely first name and change your last name to something that wouldn't type you as a particular ethnicity. Your new name is definitely ethnic, but totally nonspecific. It's a great choice and I hope it serves you well.
DEAR JACKIE:
I'm a nonunion actor who has lived in New York for two years. It's been hard trying to get work by myself, and I do feel I should get an agent. I go to networking parties and try to network with other actors and industry people, but I'm not sure how to act, what to say, or how to get noticed there. I have a hard time going up to people. I know I need to market myself, but how exactly can I do that? Is there anything I can do to stand out?
—actor4ever
via email
DEAR ACTOR4EVER:
Marketing and self-promotion are important parts of an actor's business, but they need to align with your career. You may not be at a point where an industry party—no matter how self-assured you are—is going to do you much good. More than that, networking needs to be as organic as possible; it needs to make sense. No one is going to spend much time with a stranger at a party, no matter how noticeable or interesting that stranger may be, because they're all too busy networking for themselves. You wrote that you feel like you need an agent, and that's probably true, but it's unlikely you'll make that kind of connection at a networking party.
Instead of trying to figure out how to navigate social events, put your mind on your work. Happily, networking (in the best sense of the word) has everything to do with working and living a real life and almost nothing to do with parties. You should be working with a theater company, auditioning for every role you can get without representation (through BackStage.com, ActorsAccess.com, NYCasting.com, etc.), and taking a great scene-study class, as well as other classes—such as improv, commercials, and cold reading—as you can afford them. By devoting so much time to auditions, classes, and theater work, you're bound to meet great actors and directors. Some of them will have tips for you, introduce you to others in the industry, and even invite you to—you guessed it—parties. This is actual networking: meeting people through work and mutual connections.
Right now it might seem as if you don't know anyone who can help you get a leg up in this industry, but as long as you keep working, you'll find your network of friends and colleagues growing and growing. Those are the people who will actually help you—and you them. It's not a matter of getting in with a group of successful people; it's a matter of getting to know your colleagues, all of whom are aiming for success.
Forget pitching yourself to strangers over drinks. Focus on the nuts and bolts of your career, and someday you'll be at a fancy party and realize you're networking casually, alongside your friends.
DEAR JACKIE:
I'm a beginning actor and subscribe to Back Stage to see audition possibilities. I'm finding that almost all of them are not open auditions; they want a résumé and photos and will select from there. I was under the impression that many opportunities come from open casting calls, where anyone who wants to can try out for a part. Then people like me, with talent but little experience, have a shot. Are there more open casting calls and I'm just not seeing them on your site? Could you direct me
to where I can find them in
the L.A. area?
—Jeff
via BackStage.com
DEAR JEFF:
As you have discovered, the vast majority of casting notices request submissions, followed by certain actors being chosen to audition. However, open calls are still used in smaller markets, for background casting, and for some theater projects—most notably in the form of Equity principal auditions (known as EPAs). Actors' Equity Association, the stage actors' union, requires that producers operating under a union contract see a certain number of Equity actors in an open format. Even nonunion actors can sometimes be seen at EPAs. (Go to ActorsEquity.org and click on "FAQ" for more info.)
Open calls have also emerged as a promotional tool more than a casting tool; some TV shows and advertisers use them to excite viewers, buyers, and fans. "Glee" has been doing a video open call via its MySpace page (MySpace.com/gleeauditions), and from the looks of it, the casting directors (or interns) have a lot of videos to sift through. I couldn't find the total number of videos submitted, but the page boasts 1,119,001 friends. A message at the top says: "Thanks for sending in your auditions! All the submissions are being reviewed and you'll be notified by the 'Glee' team if you're selected to move forward in the casting process." A little farther down, someone has posted the question, "Are they even checking this anymore?" Serious actors could be forgiven for seeing this as a publicity stunt rather than an
audition. You might also find open calls for programs like "America's Got Talent," game shows, and reality TV, but not likely for acting work.
Does this mean a beginner such as yourself should abandon all hope? Of course not. Everyone's new at some point. If you take the advice I gave to actor4ever above and get into class and a theater company, you'll be on your way. A great headshot is just a few hundred bucks away, and all résumés begin with just one credit. Embrace your status as a new actor and put your attention on learning all you can about the craft and the business. Your subscription to Back Stage will come in handy for that.