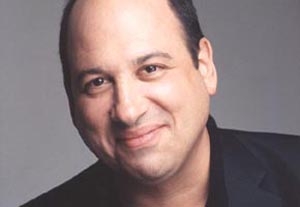 Dear Michael:
So here's my deal: I am an actor. Getting married soon. I want to start a family. I have a good day job, but it's still a tough balance with acting as it is, which makes the prospect of fatherhood rather daunting. But I know it can be done. I was wondering if you had any success stories about being a parent and an actor and somehow maintaining sanity. Any advice would be welcomed.
—jkdamighty
North Hollywood, Calif.
Dear jk:
Never having been blessed with my own offspring, I sought out a few experts on the subject: actors with kids. Many of them offered nearly identical advice, which was first and foremost to have a great support system. Colleen Kollar Smith of San Diego's Lamb's Players is married to a fellow actor, and they have a 10-month-old girl. Before their daughter was born, they'd decided that the prohibitively high cost of childcare meant they had to come up with an alternative plan. "We are surrounded by a group of family and friends without whom we could not balance our jobs and parenthood…." says Smith. "When I was pregnant, I paid special attention to those who kept expressing interest in babysitting.... This is our sanity."
"I was blessed to have my mother around when my daughter was very young," says Dalila Ali Rajah, "Cherry Bomb!" creator and executive producer. "And she's retired, so she could watch her when I had auditions or needed to work…. Even though me and her father are not a couple anymore, he is also very supportive...and when either one of us is working on a project, we work together to make things go smoother. I also have a group of moms that all work together to help each other. We understand the ups and downs."
"Being able to balance mommyhood with a shooting schedule is not easy," adds Krista Watterworth Alterman, the host of HGTV's "Save My Bath." "But it works out...no matter what. The key is a great nanny!"
But do actors make good parents? In many ways, yes, according to our experts. "I think being an actor is the perfect job for a parent," says comedian Lisa Orkin, co-writer of the film "Fully Loaded." "Besides a lot of downtime, you can bring your kids to auditions, and all the other actors help out. Both take enormous commitment and passion. But it's possible. I did it...and looking back I would not change anything."
"We consider ourselves lucky as we get many more awake hours with our daughter than most," says Kollar Smith. "Our lifestyle may seem odd or abnormal to some, but we want our daughter and subsequent children to grow up watching us make a living doing what we love."
Kerry Meads, associate artistic director of the Lamb's Players, concurs: "Actors make great parents…. I was speaking with both of my grown sons a while back and essentially apologizing for not being a normal mom to them, and here is their response in a nutshell: 'We didn't want a normal mom; we wanted you to be you.' "
While advice from the moms mostly addressed the practical side, the dads tended to wax artsy and philosophical. "My very first agent gave me the best advice I've ever received," says Broadway actor Rob Richardson. "Don't wait to have a family. Who knows what success lies ahead, or what failure? But family makes all successes greater and all failures less painful."
Actor Markus Flanagan, author of the book "One Less Bitter Actor," found that among other things, being a dad made him a better actor. "Having kids was the most sobering, valuable thing I ever did for my acting career," he says, "and I had no idea it would be that way.... I had an actor friend say to me once, 'Having my kid was the most liberating thing I ever did. I can be a complete idiot with her, and I don't care what anyone thinks but her.' He is dead right. Consider what that will do to the artist in you when you're not obsessing on your audition and your fragile ego. You gain clarity on how the whole planet works, and your understanding of the writer's words deepens. Being a dad is the greatest thing you can do with your life. Being an actor...you pride yourself in always trying to put out your best. Being a father is like having a walking, talking magic wand that allows you to become better than the best you ever knew you could be."
James Horan made similar discoveries: "I've been acting professionally for 30 years and only became a parent three years ago…. I love finally being a husband and a parent, and far from limiting me, I feel it has empowered me to be more authentic as a man and as a human being, which is, after all, what I am always attempting to better embody in my craft."
None of the parents I heard from expressed any regret. True, parenting involves sacrifice, but according to these actor-parents, without question, the benefits tip the scales. "It is all a matter of trade," says actor Leer Leary of New York. "Time spent with family directly impinges on the bottom line. However, from the bottom of my heart, it is worth it. Could I have taken that bit part? Would I have missed a game or a lost tooth or a laugh? I have a little shorter credits page and smaller bank account, but I am a very rich man with major accomplishments: two very happy kids."
"Being the father of two children, I can sum it up in a couple of words: 'balance' and 'choice'…." offers New York actor Randy Schein. "Having children gave me an extra benefit that I couldn't foresee at the time. Having children freed me to turn down lesser-paying or nonpaying work and only focus on the biggest and best jobs, which take much less time and are a blast. My friends who are parents and actors all feel the same way too. Not one of them would give up parenting to just be an actor."
So there you have it, "jk." Balancing an acting career with parenthood may be challenging, but according to your colleagues, it's doable and well worth it. Oh, but you might want to ask your future wife what she thinks.
Dear Readers:
Remember, you can also post questions on our message board at
BackStage.com
. Fellow Working Actor columnist Jackie Apodaca and I check in regularly, along with everyone from newcomers to old pros.


Any questions or comments for The Working Actor?  Please email Jackie and Michael at theworkingactor@gmail.com.