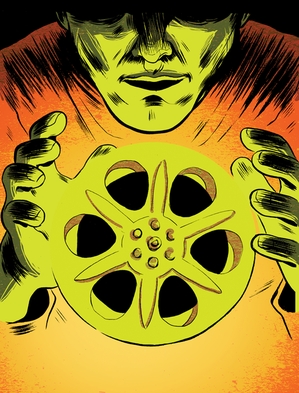 Well, dear colleagues, we've reached the end of another year together. Let's assess.
Some noteworthy actor-related stuff happened in 2012. Most significantly, our two onscreen unions, SAG and AFTRA, merged into SAG-AFTRA (I guess SAFTRA and AFTAG were both taken), allowing actors to now be unemployed in one big union instead of two. A Democratic president was reelected, which, theoretically at least, is good for the arts—though some would say not nearly as entertaining. New TV shows came and, in some cases, went, often with startling speed ("Made in Jersey" anyone?). The same thing happened on Broadway: "Leap of Faith" leaped, but the net did not appear…and neither did the grosses. "The Performers" couldn't hold out, and "Magic/Bird" got bounced. And in one of the most mysterious show-biz stories of the year, poor "Rebecca" never even opened. Then, in a strange late-year twist, Angus T. Jones publicly decried the long-running television show that made him famous enough to publicly decry things.
But enough of the past. Let's move on to my psychic predictions for 2013. (Did I ever mention that I'm psychic?) Here goes.
I predict that you will journey to a faraway place (probably for a wedding) and that while you are gone, someone will offer you a last-minute acting opportunity of a lifetime. You will read for a casting associate who appears to be about 12 years old and who has never seen an actual film. You will receive many residual checks…each for $1.52. You will be put on avail...along with every other actor in town. Casting sessions will always be running late, unless you are. You'll shave off your beard or mustache; from that point on, all casting notices will include the words "must have facial hair." At least once, you will have two auditions at the same location—one at 10 a.m. and one at 4:30 p.m.—giving you a luxurious six-and-a-half hours to catch up with your 4,299 Facebook friends.
A director will tell you you're perfect for a role, then cast someone else, saying, "We went another way." Brits and Australians will continue to dominate the world of TV and film, since there are so few actors here in the U.S. You'll be encouraged to pay to meet people who can hire you but who don't usually hire people who pay to meet them. And your dream will come true when a famous TV writer sells your life story to NBC as a series starring you, but you'll be asked to read for the director "just as a formality, so he can get your voice in his head." The feedback will be that you were "too on-the-nose," and they'll cast someone else.
I hope these predictions will be helpful in planning for the future. (What can I say? These visions just come to me. It's a gift.) And here's to another year in this crazy, stupid, thrilling, depressing, wonderful profession. Write to me! And I'll see you all in 2013.