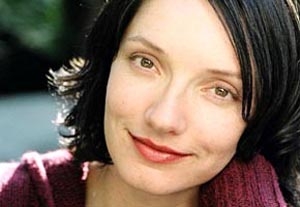 Dear Jackie:
Last year I auditioned for a New York acting conservatory program that was on an audition tour. The feedback I received was that I am very talented, but because I did not have a strong enough résumé they were not going to accept me into their main program. What they decided to do instead was accept me into their summer program, so I could see if acting was something I really wanted to pursue. I was not able to attend because I could not afford it, which I felt horrible about, but it was out-of-control expensive. And I already know that acting is something I want to pursue. I have known that since I was 7 years old.
I am 19, although I look younger, live in Atlanta, Ga., and am currently represented by an agency in North Carolina. I have been with them for about four months and have gone on three television auditions, although I have not booked anything yet. I also train with a well-known actor once a week. My résumé consists of two plays and a lot of extra work (although I know that is not considered acting). I have an audition for a non-Equity play coming up soon that I found on my own, because I know it is important to get myself out there.
I read a lot of Back Stage and know that training is very important. I was thinking about auditioning for the same New York conservatory program again in March. Do you think this is a good idea? I do not believe that my résumé defines who I am as an artist, and it's hard that finances get in the way of certain training programs I would like to attend.
—In Need of Great Advice
Dear In Need:
How did you set your sights on this particular conservatory program? Is this a place you've heard firsthand raves about, or are you assuming the program's marketing materials are true? I don't know which program is in question, but there are "conservatories" operating out of New York and Los Angeles that audition hopeful talent all over the country, luring them to study in the big city for outrageous sums of money. Before you go on beating yourself up for not being able to afford what seems like the best, make sure it's actually all it's cracked up to be.
You're right that training is important, but even if Juilliard comes knocking, finances are an important question. You shouldn't have to bury yourself in debt—or ask your parents to mortgage the house—to pay for an acting program. The work just isn't consistent enough to merit such a financial risk. Students loans can be taken out responsibly—just make sure it's an amount you can repay, no matter what your career hands you. You described the costs for this program as "out of control," so I'm guessing it isn't a reasonable option for you right now.
There are many ways to get the coaching and broader education you need. At 19, a traditional college—even a community college—with a great theater department could help you begin your journey. One perk on this path is you'll be earning credit toward a bachelor's degree while learning more about your craft. According to studies, including a 2002 report from the U.S. Census Bureau, a college degree will significantly raise your earning capacity over your lifetime. Will it matter in terms of booking acting gigs? Probably not, but it will improve your chances of landing well-paying day jobs as you build your credits.
You might also consider sticking with private classes. If New York is on your horizon, you'll have a wealth of fantastic mentors to choose from. If you're staying in Georgia for now, continue the work you've been doing. Finding a regional agent and beginning the audition circuit, both for television and nonunion theater, are great moves. Continue seeking out local opportunities—for both formalized training and on-set or onstage experience. This will cost you nothing but time.
I can understand how disappointing it must be not to get into a school you've got your heart set on, but perhaps the rejection was a blessing in disguise.
Dear Jackie:
I was recently offered a role as a principal in one of my dream shows at a well-respected, nonunion theater nearly 100 miles from my home. The next day, my offer was retracted because they could not find housing for me. The show's budget, I was informed by the producer, cannot afford to put me up in a budget hotel. The casting announcement specifically stated that pay and housing for out-of-towners would be provided. The weekly pay won't cover the costs of gas and my personal time driving.
What would you do in this situation?
Would you try to find your own housing? Should I get a stipend for housing (since it was promised to me in writing)? Should I try for a gas stipend on top of my weekly pay?
Thanks for your input!
—Jerry
Dear Jerry:
Unless I was willing to burn the bridge, I wouldn't go back and try to force them into housing me or giving me
a stipend on the strength of a written nonunion offer. If, as you said, this were my dream show, I'd have to think seriously about whether the sacrifice of money and time was worth making. It's slightly possible I'd agree to do a show 100 miles from home without housing—if, say, the rehearsal period was only a week long or I was given permission to come in only three times a week. In either case, I'd also ask for a gas stipend.
This is a situation that will require you to be very clear with your boundaries. If you go negotiate a deal with the producer—getting a small housing stipend or gas money—be sure you're truly happy with the arrangement before moving forward. Don't compromise more than you're really willing to give up. It may become clear upon reflection that the original offer was the minimum you're willing to accept.
Bear in mind, also, that your offer may have been retracted because a local actor became available and the producer simply decided to take the cheaper option. That's not the ethical thing to do, given you had an offer in hand, but many theaters struggle financially, and some can make unfortunate choices just to get by. It's also possible, though unlikely, that the director or producer simply had a change of heart and wanted to find a way to let you down easy. If that's the case, this doesn't sound like a company worth stewing about.