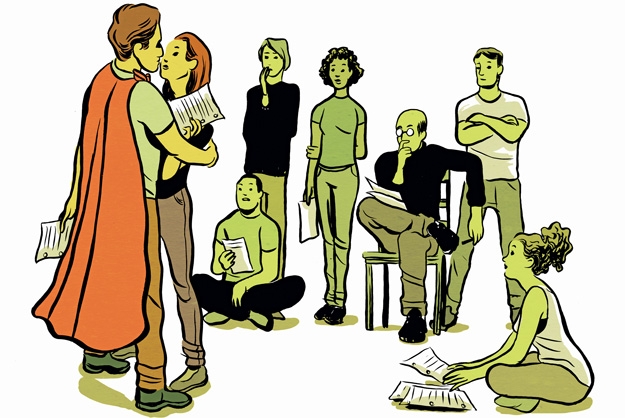 Dear Michael:
I'll be doing my first SAG Foundation CD seminar [Casting Access Project] later this month, and I'm trying to find out what to expect. I heard that there will be around 20 participants per seminar.
After the Q&A, does each person read one-on-one with the CD? Or are you partnered with someone and supposed to do your reading in front of the whole group? Or is it different for each guest CD?
In general, I notice that I do my best work one-on-one with the CD (or with a reader) because that feels most like my real auditions. But either way, I want to be prepared. —Betty Boop

Dear Betty: Good for you for doing some research before attending. I took your questions directly to the SAG Foundation and got this response from Franz Reynold, the New York program director for the Casting Access Project.
"Congratulations for being proactive and attending the Casting Access Project. Spaces are in great demand because the program is limited to an intimate group of 20 actors and are offered at no cost to the actors.
"Each of the sessions varies slightly according to the requirements of the host casting director. However, there is always a short Q&A during which you can ask any of your questions about the casting/audition process.
"Generally each actor performs individually in front of the whole group and then receives some feedback and/or re-direction, because this is an educational program. Occasionally the casting director will pair actors to read together, and sometimes actors are filmed and then the class will watch the playback together as the actors receive feedback.
"The program consistently offers opportunities to meet casting professionals of the highest caliber, with over 16 sessions a month in NYC, L.A., and across the country. SAG-AFTRA members outside of NYC and L.A. will soon be able to participate in CAP online."
For you readers who may be less familiar with the SAG Foundation's Casting Access Project, here's what we're talking about. Quoting from the website, "The SAG Foundation's Casting Access Project is a program designed to offer SAG-AFTRA members access to casting directors through Master Prep Sessions and other events at no cost, providing them with the opportunity to show their work to respected casting directors. To be eligible for this program you must be a current SAG-AFTRA member, over 18, and in good standing and must first complete the CAP orientation process." In Los Angeles, that process is done exclusively online; the next L.A. orientation will be available on the website Dec. 1–14. For New Yorkers, orientation is done online and by mail. "Registration for the next N.Y. CAP orientation starts on Jan. 14 and ends when the list is full."
This is another one of those benefits we union members should be taking advantage of. For more info, visit www.sagfoundation.org.