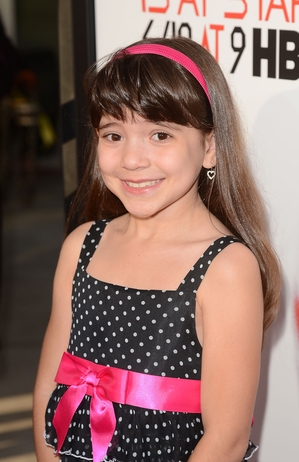 Jennifer Schweikert discusses her role as social media manager to her daughter Chloe Noelle, 9, who plays Emma Garza on "True Blood."
What should parents know when it comes to managing their child's social media?
Jennifer Schweikert: Parents managing their kids social media should make sure it's interesting to others. If your child is in charge of their own social media, make sure they're posting things that are relevant to a wide audience, not just a private joke to their friends. I manage Chloe's Twitter and Facebook, and I try to come up with subjects that would be interesting for her adult followers, yet I still ask her to phrase it in her own words. I want to keep her "real" and have her follower's experience who she really is. I try to look for things that are relevant to her and her fans, but are also age appropriate for her and her readers.
What can parents do to keep their child safe online?
Schweikert: As far as safety, I am 100 percent involved in her social media. She has fans from all over the world and most of them are adults. I am very careful not to post specific locations of where we are in real time. I also monitor the appropriateness of the pictures I post. I have to be aware that there are harmful people out there and that she is a 9-year-old girl. I have a zero tolerance for anything inappropriate. If someone says anything even close to inappropriate; they are deleted and blocked. I cannot take any risks with my child.
I also get permission before posting any pictures of her with her friends. I tell their parents these pictures are being seen by people all over the world and let them make the decision if their child can participate. I also try to not post names of friends or family. With any child in the industry, parents should be closely monitoring their online activity. People who follow them know what they like, what they do and their style of talk. It could be very easy to access them online and engage them. By closely monitoring their social media not only are you protecting them, but you can also manage their image.
How do you decide what to post/tweet?
Schweikert: Several times I choose not to re-tweet articles or follow ups about her show as it could be odd or inappropriate coming from a child. I do try to post things she is interested in. Her fans know she's 9 and she likes 9-year-old things. I just make sure to maintain a level of sophistication.
How involved should parents be in monitoring their child's social media accounts?
Schweikert: I think with a child in the industry, a parent should be completely involved in their social media. You are trying to develop a career for your child, and it's very important to maintain an image that will help that development. If you have a teenager, I still think being 100 percent involved in their professional social media is important.
What can parents do to help their child's online image?
Schweikert: Kids don't always think through putting things out there in the social media world. Something they think is funny at the time could offend their fans [thereby] creating a huge obstacle for their career. It can be hard for a child to understand that by being in the industry, you give up your right to post anything you want on a social media site. It's important to remember to hold yourself with dignity as if you were at a public event. Parents that manage their kid's careers should look at social media as another form of PR and treat it with respect. You do have a level of responsibility to maintain a public image. I think it is always a good thing for a manager/publicist to occasionally review your posts to make sure you are projecting the right image.
What age is appropriate for a child to start using social media?
Schweikert: As long as the parents are completely involved, 8 or 9 is a great time for them to start exploring the social media avenues. Chloe loves getting tweets from around the world. We have even started using a map to track where her fans are. It's so nice to see the supportive messages from people you don't know. She has received messages from other kids that look up to her and ask for advice.
How can social media help a child's career?
Schweikert: Once you put your child out there, you open them to criticism. It's important to discuss with your child that there may be comments that aren't always good, but you need to focus on the positive. Using social media can be a great thing for their career as well as self-esteem. It's also important to try to multi-layer your social media presence. Have a great website where their fans can get to know more about them. Youtube can also be a great way to express who your child is through videos they like or created, but again make sure the content they are posting is appropriate.