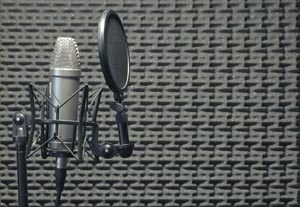 It's no secret that the very best voiceover artists are, first and foremost, actors. Some of them may not ply their acting skills on stage or on camera, but they are amazing actors nonetheless. In fact, when I'm taking on new voiceover students or clients, one of the first things I bring up is their acting journey—where they've been, what they've learned, and what they've accomplished.
If the only thing the new prospect brings up is that people have said he or she has a great voice or can do funny characters and there's no mention of solid acting training, then I prepare for a lot more work to get this person to the level that he or she needs to be at. Conversely, I'm always a bit surprised when an established stage or on-camera actor claims to have little or no voiceover skill. It soon comes out that the actor just hasn't thought about using the very same acting muscles that he or she uses for film, TV, and stage to advance to the same working level in voiceover.
As on-camera actors, we often discount, or even completely forget, that part of our work involves voiceover. If a plane flies by while an outdoor scene is being shot or if the sound of a prop being slapped onto a table obliterates an important spoken word, the actors involved most likely have an ADR session in their future. And how often have we heard members of a TV cast gravely intoning "Previously on…" at the start of an episode?
The truth is, whether on camera or on mic, actors use a large number of the same skills—common acting "muscles"—for work in both arenas. At Actorfest LA, I'll be discussing those very muscles and how on-camera actors can take advantage of them to open themselves up to a brand-new world of work in voiceover. For voiceover actors who have never considered doing on-camera work, I'll show how all of their character-defining, storytelling skills can be put to use on set.
Some of what we'll talk about are the skills themselves: script analysis, cold reading, defining the audience, defining the character, identifying the character's objectives and obstacles, and so on. You'll be amazed at what a leg up you have in one mode when you've been trained well in the other. My experienced-on-camera-but-voiceover-newbie clients are usually surprised and delighted at their almost immediate progress. Sometimes they confess that they're a little embarrassed they didn't try the work on the other side of the studio sooner.
But we'll also fly along the margins of both modes of performance to note the differences where they exist—playing the mic versus finding your light, vocal levels in a recording studio versus matching vocal levels with shot size, and so on. There are some stark differences, but nothing you as a professional actor can't handle.
Spend the day at Actorfest LA soaking up everything you can. But do save a little energy and attention for my intensive, "Voiceover for On-Camera Actors."
The bottom line? I want you to make more money as an actor. If you're currently working on camera and maybe just a little envious that your voiceover pals can earn as much money as you do (and maybe more) in less time, far less makeup, and less wardrobe even, I guarantee there will be some takeaways in my session, marking the opening of a new world of acting opportunities.
David H. Lawrence XVII will conduct the intensive "Voiceover for On-Camera Actors" at Back Stage's trade show Actorfest LA on Sat., Nov. 5. For more information, visit www.actorfest.com.