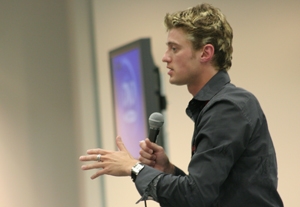 Seasoned voice actors as well as newcomers to the business will gather at the Disneyland Hotel and Resort in Anaheim, Calif., June 13-16 for
VOICE
(VoiceOver International Creative Experience) 2012. Industry insiders from California, New York, and around the globe will lead or participate in presentations on a range of topics -- related both to particular skill sets and to the "business of the business." Nearly three dozen programs and seminars are slated. In addition, two large-scale networking events are planned.
Participants are urged to attend the entire conference; day passes are also available. "Exhibits Only" passes are an option for those who choose not to attend presentations but would still like to check out the scene.
To provide a sense of VOICE 2012, Back Stage spoke with a number of professionals scheduled to present.
By the Book
Noted narrator and coach
Vanessa Hart
will lead a panel of experts for a freewheeling Q&A session about the audio books industry. Scheduled presenters include publisher Michael Charzuk of Audible.com, agent Dean Panaro of Abrams Artists Agency's L.A. office, and several leading voice artists in the audio books genre.
Hart says that in an era when much of the publishing industry is struggling, audio books divisions are thriving. Many publishing houses are now putting titles from their backlist into an audio format.
However, the requirements of the genre have changed. Voice actors now largely work from in-home studios. In the past, Hart says, 99 percent of her assignments were done at outside, professionally staffed studios. Now as many as 75 percent of her projects are recorded alone at home. Consequently, narrators must also be technicians and concern themselves with such issues as mastering and quality control.
"I think that it's stunningly intimidating," Hart says, "especially if you're just starting out. Simply because you're new, there are so many things you miss. So you spend at least four times the amount of time going back and fixing the mess that you made as you do actually recording the book."
Hart says that the panel will cover topics for beginners and pros, though she hopes to skew the session toward those with prior audio-book experience.

Which Comes First -- Image or Voice?
Animation voice actor, director, and script adapter
Cris­pin Freeman
will present "Anime Voice Acting: Dub Like You Mean It!," in which he'll speak of the challenges and rewards of dubbing English voices into Japanese anime video.
"The production process for anime is different from American animation," Freeman says. "In American animation, the voice actors are recorded first, and the animators animate to the audio recordings. In Japan, it's reversed. The animation is done first, and then the actors put their voices into already finished animation. That's the case here in America when we're dubbing into English, but it's also the case in Japan."
Freeman plans to start his presentation by demonstrating "one of the worst English dubs of anime ever made." Then he will have individuals practice their ability to match the "lip flap" of the animated characters being voiced. "The cool thing about it is that you get to see if it works, instantly -- because your voice is right there in the animation."
Corporate-speak
A seemingly less glamorous corner of the voice market takes place in the corporate sector -- recording narration for sales-training and service-training projects. Tim Keenan of
Creative Media Recording
will dispel some of the myths about this line of work with his presentation, "How to Succeed in Corporate Narration."
Keenan says that corporate assignments -- many of which are available to actors looking for nonunion work -- are relatively abundant. He refers to them as "low-hanging fruit." What used to be basic and perhaps even clunky work -- straightforward narration to accompany a low-tech, carousel-projector slide show, for instance -- now involves decidedly high-tech advances, such as web-based training and "e-learning."
"When you say 'straight narration,' your mind might think, oh, boring," Keenan says. "Well, if it's boring, nobody's gonna watch it. Producers know that. They know who their audience is, and so they're producing programs that are dramatic and exciting and have clever graphics and clever sounds. They're doing all those types of things, whether they use [the narration] for marketing purposes or training or whatever."
Naturally, one thing that's on the minds of aspiring voice actors is how to land representation. Actor, author, and coach Gabrielle Nistico will moderate a panel called "How to Book a Top V.O. Agent." Scheduled panelists include major agents from New York and Los Angeles. Participants may bring six copies of demos for distribution to panelists for later review, Nistico says. "We'll be speaking very candidly about what a talent can do to improve their chance of being invited to a voiceover agent's roster," she says.

For more information on VOICE 2012, visit voiceacting.com/voice2012