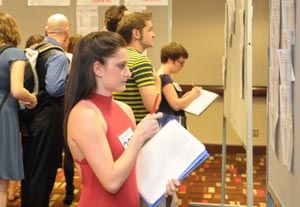 Brian Enzman
Artistic producer, Prather Entertainment Group (Broadway Palm Dinner Theatres in Fort Myers, Fla., and Mesa, Ariz.; Dutch Apple Dinner Theatre and PEG National Touring Co. in Lancaster, Pa.) 
We attend several regional auditions throughout the year, and the Unified Professional Theatre Auditions are one of the best. Approximately 1,000 actors audition in the four days of these auditions. We go into this audition generally looking for all roles, from ensemble to leading roles. With three theaters and a national touring company, we have a lot to offer and have found much talent from these regional auditions.
Pick a song or monologue that is not overused at auditions. You would be surprised how many times we hear the same 16 bars. Also pick a song that is in your vocal range. Show us a range in the monologue and song selection, both comic and dramatic. Dress appropriately. Flip-flops and ripped jeans really don't make a great first impression unless you're targeting a specific role, which is not a good choice, since there are many producers and many different shows and roles being cast.
We generally go into an audition casting for at least 10 different shows, as well as looking for actors to keep on file for future consideration. Research the theaters you are interested in before you attend the auditions, so you can choose which callbacks are important. Follow up using the contact information of the theaters after your auditions.
Amiee Turner
Producing artistic director, Theatre by the Sea, Matunuck, R.I.   
First, I want to see that the actor is prepared. If I don't feel a sense of confidence from the actor, I quickly lose all confidence to hire them.
Second, the actor needs to exude a sense of professionalism throughout the process. A professional actor respects the process and is courteous, organized, and easy to communicate with. The really good ones bring along a sense of humor as well.
Third, your audition needs to be engaging. I think a lot of actors forget that we have no interest in seeing an audition; we want to watch a performance. If you can't engage me for 90 seconds, what makes me think you will engage my audience for an entire song? An entire scene? An entire play?
I can't hire everyone who is talented; I need to find the right people for my next show or season. I know the caliber of talent, the experience necessary, and the type of personality that will best succeed at my theater. I have thought out the season, and I know the shows and I know my audience. Even if you are wonderful and talented, you still may not be the right person for me this year, but I will probably remember you anyway.
Patrick Rowan
Vice president, production and operations, National Theatre for Children, Minneapolis
When we attend auditions, the National Theatre for Children looks to hire actors who are energetic, talented, responsible, full of integrity, personable, excellent communicators, fun-loving, prepared for the challenges of a touring lifestyle, and able to work well with directors and fellow actors.
Please notice that I did not say we only hire the most talented performer or the actor with the best headshot and most résumé experience. We count on our actors to represent our company well, act as ambassadors for our shows' sponsors, and be positive role models for the audience they perform for.
We employ approximately 80 to 100 actors throughout the calendar year, which means we need to and want to hire great people, whether the gig is two weeks long or 10 months long. You need to be well-prepared and polished, because from that audition we will assess every actor's performance capability.
When it comes to casting our shows—all things being equal—we need to know that we are hiring good-quality people who can do the job at hand and, most important, play well with others. And remember, when you are up onstage for your 90-second slot, we want you to succeed just as much as you want to succeed. So do your best to make us call you back. Break a leg!