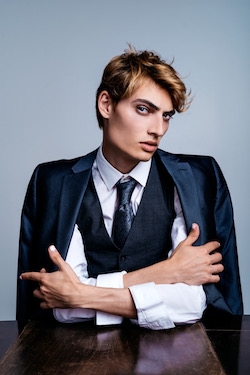 Trevor Drury
Trevor Drury is a musician and international model who's graced the pages of Details Magazine and worked with such notable designers as Hermes, Robert Geller, Timo Weiland, and Malan Breton. Trevor walked the runways for Tom Ford and served as the face of the brand's beauty and 2016 holiday campaigns, as well as Mac Cosmetics' Halloween campaign. He's represented in New York, Los Angeles, Paris, Milan, London, Miami Beach, Denmark, and Barcelona.
Trevor's musical influences include artist like Radio Head, Harry Styles, and Elvis Presley—the wide range of genres likely responsible for his unique sound and style of writing. Drury's first album, "The Start," was released in June 2016. And his latest album, "A Year Of My Life," will be released later this year.
For more information on Trevor, please visit officialtrevordrury.com.